THE PERSONAL TRAINER CONNECTION!
Personal Trainers in Waterford, New-York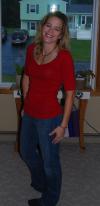 Fitness & Weight Loss
Debi Condon

Waterford, New York 12188

Specialties
Strength Building
Weight Loss
Body Sculpting
I build my pride by helping clients adopt a healthy lifestyle with individualized nutrition and fitness plans. I challenge each of my clients to work harder than they ever have and to push beyond that comfort zone! I am here to educate YOU with the tools you need to succeed and motivate you to stick with the plan even when you do not want to. But you must be COMMITTED and use the tools. Able to come to your home, office, gym or even a local park!
More details about Waterford personal trainer Debi Condon