THE PERSONAL TRAINER CONNECTION!
Personal Trainers in Londonderry, New Hampshire
Personal Trainers in Londonderry, New Hampshire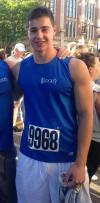 Personal Training
Sam Bousnakis

Londonderry, New Hampshire 03053

Specialties
Strength Building
Weight Loss
Rehabilitation
Hi I'm Sam I am a personal trainer from Londonderry, New Hampshire. My passion in life is fitness and helping people achieve their goals. Over just this past year I have helped clients lose 20, 40, even 60 pounds! A lot of personal trainers sell their programs and promise results. I work in reverse I show you the results, then we discuss our programs options. Before I tell you more about my programs let me tell you a little bit about me. I am certified through National Academy of Sports Medicine. Being a personal trainer is something I have always wanted to do and am more then grateful to call this my career. As of right now I currently work in both a studio and offer in-home sessions so we are sure to find something that works for you. My programs are goal orientated. During our course we will be setting goals throughout and meeting them in the best way possible. I currently specialize in fat loss especially in woman over the age of 35. I have worked with college athletes before and kids as young as 7. In my free time I am an avid weightlifter and I enjoy to running the 5ks often held in Manchester. When a new client is interested I know it can be an intimidating process for anyone. That is why I have a free phone consultation so we can get to know each other without any of the pressure of someone coming into your home for the first time. After that I have different specials I can discuss with you exclusively for my first time Craigslist Clients. To contact me send me an email at sbousnakis94@gmail.com or call anytime at 603-275-8073 I look forward to hearing from you.
More details about Londonderry, New Hampshire Personal Trainer Sam Bousnakis