THE PERSONAL TRAINER CONNECTION!
Personal Trainers in Calabasas, California
Personal Trainers in Calabasas, California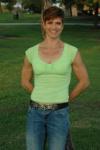 Lasting Total Body Fitness & Health
Lee Mosbe

Calabasas, California 91302

Specialties
Strength Building
Weight Loss
Rehabilitation
Yoga
Aerobics
Body Sculpting
Health coach
Every session I have with a client is thoughtfully prepared in advance and designed for him/her as an individual. Workouts are filled with variation, (free weights, balls, calisthenics, etc), and a level of challenge that keeps pace with the client's steadily improving fitness level. A focus is maintained on total-body fitness which combines muscular strength, cardio endurance, flexibility, effective breathing, nutritious eating and a deep appreciation for the mind-body connection. Give me a call and we'll discuss your goals and needs and how I can help you achieve them. The consult is free, so let's see what we can accomplish together. To your health!
More details about Calabasas, California Personal Trainer Lee Mosbe