THE PERSONAL TRAINER CONNECTION!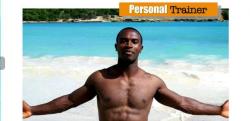 WINDSOR STVICTOR -
6786654673
Lilburn, Georgia 30047
Trains both men and women.
contact trainer
Specialties
Strength Building
Weight Loss
Aerobics
Kick Boxing
Body Sculpting
Certifications
NESTA Personal Trainer NESTA Advance Personal TRainer
Personal Trainer Overview
The decision to hire a personal trainer can be scary thing and a very tough decision. Many of my clients were worried that it was going to be a painful process filled with judgment, soreness, and exhaustion. As a team, we will work together toward your fitness goals. Your workouts will be designed specific to you and start your fitness level. Working out, eating healthy, and getting in shape does not have to be an experience that you fear or dislike. It can be fun, rewarding, and something that you look forward to each day. Together, we will make your fitness goals achievable and enjoyable onyour fitness journey. That way as you move though life, you can continue to live healthy, full of energy and do the things that you want to without worry. Together we will start a new healthy fit chapter in your life! My workouts will meet you where you are at and then take you to a life of health, strength, energy and a lean & tone body for the rest of your life.
Training Philosophy
Fitness goes far beyond just making you look good, it improves your health and well being, quality of life, self esteem and self concept. I believe fitness should be fun and enjoyable, something to look forward to and something that leaves you feeling satisfied and successful. When I work with a client and design their program, I take into account the whole person, not just their body, but also their mind, spirit and sense of humor. I also believe that you don't need to put in long hours to get results. I'm not one to waste time so every exercise I choose is goal specific, effective and efficient. Finally I know from experience that an exercise is only as good as how it's being performed. It's not what you do, it's how you do it!
Education
B.A Degree
Bio
I Windsor St. Victor have been a Certified Personal Trainer and Group Fitness Instructor for over 10 years. I hope to make a positive impact by sharing my fitness and nutrition knowledge and serving as a healthy role model to all my clients. I specializes in strength & conditioning, body sculpting, kickboxing, aerobic and weight-loss programs. I believes anyone can find their place in the fitness world with a little guidance and perseverance.