THE PERSONAL TRAINER CONNECTION!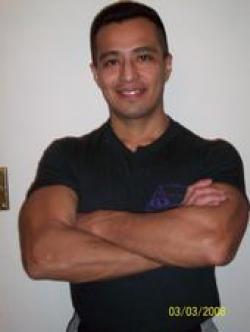 Cruz Fitness Systems - One on One Fitness and Self Defense
Vinny Cruz -
(818) 319-7228
Burbank, California 91505
Trains both men and women.
contact trainer
Specialties
Strength Building
Body Building
Weight Loss
Kick Boxing
Body Sculpting
Reality Based Self Defense
Training Locations
home
work
gym
studio
outdoor
Personal Trainer Overview
Hi, I'm Vinny Cruz, owner of Cruz Fitness Systems. I am an independent Fitness, Motivational Coach, Kickboxing and Self Defense professional in Los Angeles,CA, with over 30 years of experience in the fitness and martial arts fields. I have worked at many prominent New York City Health Clubs, such as: The New York Health and Racquet Club and Equinox. I have helped hundreds of men and women achieve their health and fitness goals, and looking their best, ranging from bodybuilders, power lifters, Boxers, Kickboxers, MMA Fighters to the average soccer mom or dad, pre and post natal women, to the elderly. The Cruz Fitness Systems Muscle Building and Fat Burning 1 on 1 training is for individuals living in the Los Angeles, California area who wish to train with Fitness & Self Defense Expert, Vinny Cruz. This program entails a 30-60 minute high intensity, motivational and educational training session that will help you turn your body into a muscle building/fat burning machine, boost your metabolism and keep you burning fat even after your workout for faster results. Young or old, fit or unfit, this program will motivate you to function confidently in all areas of life. This high intensity program consist of: cardiovascular conditioning and endurance training, functional strength training, circuit training, cross training, speed and agility training as well as boxing and Kickboxing and or self defense and stretching. All in 30-60 MINUTES! This program also includes a personalized and customized workout and nutritional program. Double team or group training (max. of 2-4 individuals) is available.
Training Philosophy
As a fitness professional, my mission is to keep my clients accountable, committed and motivated to obtain their individual goals and to design training programs that will enhance their individual performances. I teach them to keep their focus and patience, pushing them to their limits and getting results. I inspire my clients and motivate them to train hard. I encourage them to strive towards being fit and living a healthy lifestyle, while creating a fun and positive environment. I educate my clients on how their bodies move and work. I am a mentor and teacher, demonstrating what a fitness lifestyle is all about, always realizing that I am the example. I support my clients to help them achieve their fitness goals. I challenge everyone to make fitness their lifestyle choice, hoping that they will continue to come back each week knowing that consistency is the key! I want to help my people create a routine, a lifestyle, and a way of life. I make a difference and I change lives, and that's what CFS is all about. Giving you WHAT you NEED with the RESULTS you WANT! Now when it comes to discipline and work ethic, I treat all of my clients the same, when it comes to their own individual goals, I handle them individually. Because it is my job as a motivator to find out what that individual's motive is. It's not what I want, it's what you want! I know what I want and expect from you as a client. The key is: What you want, and how I can help you achieve those goals. I believe that success is a choice, being mentally, physically, and emotionally fit to the best of your abilities is your choice. It is a shame for a person not to realize their full potential and worth as a human being. As your fitness and motivational coach, I don't care if you're young or old. I don't care if you're in shape or out of shape. All I want from you is that you have a positive attitude about yourself, believe in yourself, feel confident, motivated, and disciplined and prepared to work hard. And if you don't have it, don't worry about it. Because this something that I help my clients to attain in themselves as well. Part of my job is helping you answer a very important question: Why do I need a professional fitness trainer like Vinny Cruz to train me? To start off, having a one on one personal fitness trainer is the proper way to learn about nutrition and exercise which will then help you to become tight, lean, radiant and healthy! And truthfully, You will NOT train yourself and reach your goals faster without my help! That is my challenge to you. I am looking for those who are willing to take that challenge! The question is, "Will you choose to be one of them?" Sincerely, Vinny Cruz,CPT
Education
Borough of Manhattan C.C/Nutrition & Exercise Major
Bio
Fitness and Martial Arts have been my love and passion since the age of 12. My desire to pass on the knowledge that I've acquired in these fields over the years to others, eventually led me to making training, guiding, motivating and helping people to change their lives and to reach their fitness goals my lifelong career. So in 1983 at the age of 16, I started Cruz Fitness Systems. Being a personal trainer and self defense instructor is an important part of my life. It is not a hobby or a part time job as it is for many others. I live it every day, and will probably die with this lifestyle of always reaching my full potential, and motivating others to reach theirs as well. It is what I do, it is what I do best, and it is what I know. I have trained and worked hard to achieve what I have, and so will you as my client! I live INTENSITY!