THE PERSONAL TRAINER CONNECTION!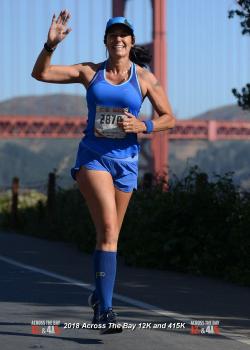 A Very Different Kind of Personal Trainer
vanessa bogenholm -
(408)761-7840
San Jose, California 95128
Trains both men and women.
contact trainer
Specialties
Strength Building
Body Building
Weight Loss
Rehabilitation
Aerobics
Body Sculpting
senior exercise, over 30lbs to l
Certifications
NASM Personal Trainer PTR Tennis Professional ASFA Running Instructor ASFA Sports Nutritionist
Personal Trainer Overview
I know wanting to better your health and get fit is a priority for most people, but making that leap and actually doing something about it can be tough. I hate gyms, always have, so don't work in them......I come to you in your home or a local park, where you feel comfortable and tailor a program to fit your wants and needs. I have all the equipment we will ever need and work out with you.
Training Philosophy
I specialize in getting people feeling strong again; especially people that haven't been active physically in a long time, if ever, in their lives. Examples of Current Clients: • helped a woman lose over 100lbs and a man lose over 120lbs. • a man gain 20lbs of muscle and the arms he always dreamed of • eating disorder clients become athletes • older adults gain balance and mobility getting out of their wheelchairs • young adults get fit and ready for scholastic sports • heart attack and stroke patients get back to better health • damaged joint and back problem sufferers learn how to manage their injuries to live fuller lives • and many other clients learn that exercise can be fun and a regular part of their lives.
Education
BS Agricutural Biology Cal Poly Pomona 1989
Bio
Previously the Fat Girl in school, poor, over weight, depressed eating large amounts of candy and being the last to be chosen for the softball team, basketball team or whatever. But by a stroke of luck, a high school coach told me "Vanessa you probably should get fit before basketball season starts..." and I changed. I began to run. well down to the corner about 20 steps because on the first day that was all I could really do at 200lbs as a 13 year old. But by the end of that summer i could run 11 miles, had dropped 60lbs and was marathon training. But that wasn't the miracle, the miracle was I was no longer depressed and sleeping 14 hours a day, exercise and the proper foods made me emotionally feel better and that is the message I have for you. You too can feel better.