THE PERSONAL TRAINER CONNECTION!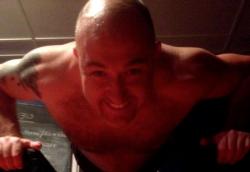 "BE AWESOME!!"
Tyler Gosley -
(802) 673-6107
Carpinteria, California 93013
Trains both men and women.
contact trainer
Specialties
Strength Building
Body Building
Weight Loss
Body Sculpting
Obstacle Races, Resistance Bands
Certifications
NSCA-CPT (National Strength and Conditioning Association
Certified Personal Trainer) Resistance Band Training Certification Precision Nutrition Lvl (in progress) CPR/AED up to date Fully insured
Personal Trainer Overview
You have made the choice to become a healthier version of you. It will be your sweat, your hard work, your determination, and your Awesomeness that will get you to your goals. My job is to show you the steps, the path, and the door to help make this possible. Of course at times, I might give you a little push too. Let's take my experience, my fun and unique approach to fitness, and get you to where you want to be.
Training Philosophy
Regardless of your level, already know that you are awesome. However, leading a healthy and active lifestyle can affect your life in so many ways. I believe when you are leading a healthy lifestyle you gain confidence. This confidence radiates through every aspect of your life, and in turn makes life fun, enjoyable, and well, AWESOME!!! It is my belief that fitness and health should be fun (although it will be challenging at times). There are so many techniques and tools to achieve our fitness related goals and for me that can be in a standard gym, using our own body weight, having fun at a playground(the best gym out there) or my favorite, resistance bands. Take charge of your fitness, have fun, and above all, continue to "BE AWESOME!"
Education
Plymouth State University-Master's in Educational Leadership (in progress) Plymouth State University- Bachelors in Education
Bio
I am from the Green Mountain state of Vermont. I recently just moved to the area, as it has been a dream of mine to further my education of fitness out here on the West Coast. I have always immersed myself in some form of fitness throughout my life, whether through playing or coaching sports, training for events, hiking, or realizing that my own fitness level needed some serious help. During college, I suffered numerous injuries that prevented me from pursuing my basketball career. Once college was over, my excitement about fitness was depleted and I became overweight. Through denial and excuse making, I went on like nothing had changed. It wasn't until a few key injuries and social events that I realized that I had let myself go and I didn't like the person I had become. Instead of saying it was too late (and it never is), I decided to take control and I joined a local boot camp. My goal was to put my pride on the sidelines, admit I needed help, drop some weight, learn more about fitness, and try to be my old fitness-loving self. Through this amazing and life-changing process I came to the conclusion that I didn't need to be my old self, but I could become a better version instead. During boot camp, I made some life-long friends, gained many crucial supports, and started my journey. I was inspired, rejuvenated, and committed. As I got better with certain challenges (workout formats, certain exercises, etc.), I wanted to be a leader by example. I wanted to be someone's inspiration. The more I took on and challenged myself, the more I started to realize that if I could do it, so could anyone else. It was here that my instructors approached me and asked if I would be interested in taking on a fitness position and leading some classes. This opened the doors to becoming part of this industry. I found myself in a position to inspire through daily teachings. I took this responsibility (and still do) very seriously. Not only am I in a position to teach about fitness in my fun and unique way, but I also have the ability to change lives. It is my goal to continue to learn as much as I can. Over the past 3 years since this journey began, I have noticed that there is so much to learn and that this process is ongoing. Not only do I want to learn for myself, I also want to learn for my clients to help them reach their fitness potential. As people change, so do their goals, and as they achieve these goals, their confidence grows. Once this occurs, new goals emerge not only in regards to fitness, but in many, if not all the other areas of their lives. Fitness has changed my life in every way: Physical, personal, and professional (what I like to call the "3 P's"). It is my biggest goal to help others make a change.