THE PERSONAL TRAINER CONNECTION!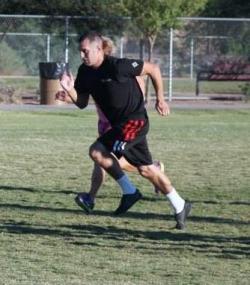 Specialties
Strength Building
Weight Loss
Rehabilitation
Aerobics
Spin
Body Sculpting
Running
Certifications
NPTI Diploma NSCA-CPT Z-Health Master Trainer
Personal Trainer Overview
Everybody is different. Your Training Should be too. I use your Brain and your Nervous system to find out what is truly holding you back. My goal is to teach you to Move better and feel better with less of the pain and stress that other trainers bring with them.
Training Philosophy
I started were the other trainers are. I went to school and learned about muscles, nutrition, exercise ext..... I got the best training certifications But every thing seemed so black and white. Do This and get faster do that and be stronger. But why do some get much faster and much stronger and others don't see much improvement? I got all of my answers when I found Z-Health. At Z-health I Brain and Nervous system. I learned that there is no black and white.
Education
Many running and lifting clinics IKFF Kettlebells 7 years US ARMY Intern Trainer at LifeQuest transitions National Personal Training Institute Z-Health
Bio
Tyler Daly is an experienced Athlete and coach. Tyler's passion for coaching began when he was just a kid. As a successful long distance runner other kids would seek his advice and Tyler was always more than happy to help. After high School Tyler became a very strong runner competing in such races like the western states 100 mile endurance run, Boston Marathon, and much more. Then one day he give it up to serve in the US ARMY. In the Army Tyler learned that running was a big issue in the Army. Many soldiers had a hard time passing the 2 mile run. Soldiers Began to ask for his help. Tyler discovered that many soldiers were trying "way to hard" to get better. He started to coach his "do less" approach and had great success in doing so. At the end of his second Iraq deployment Tyler was wounded and retired from service. By this time Tyler was already a good coach. He decided to go back to school and learn all he can about how to truly help people.