THE PERSONAL TRAINER CONNECTION!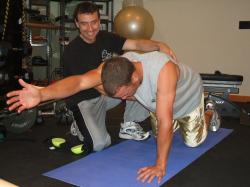 Training Locations
home
work
gym
studio
outdoor
Personal Trainer Overview
I am a certified Personal Trainer. 15 years. Lose weight, tone, sports, core or rehab
Training Philosophy
Lazy people desire and get nothing, but the desires of the diligent are fully satisfied!!
Education
Some College in Business, Golf training, Lots and lots and too many to list.
Bio
I got into training because being healthy saved my life. I got in a motorcycle accident that crushed my lungs so they got full of blood. Technically I should not have been breathing but I was when the ambulance showed up.