THE PERSONAL TRAINER CONNECTION!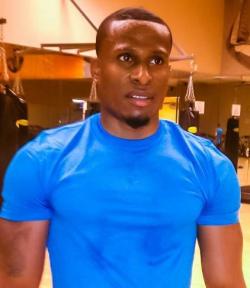 Specialties
Strength Building
Body Building
Weight Loss
Rehabilitation
Kick Boxing
Body Sculpting
Training Locations
home
work
gym
studio
outdoor
Certifications
Certified Personal Trainer
Personal Trainer Overview
I am an ambitious, dependable, and client-focused Certified Personal Trainer who obligation is to educate and train clients in the performance of safe and appropriate exercises to effectively lead to an individual's optimal health. I will disseminate the fitness lifestyle of achieving the highest quality of existence (mentally, spiritually, emotionally, and physically). I am looking for opportunity to use my knowledge and experience to help my clients flourish. I find elation and grate satisfaction in being a part of my client's accomplishments. I have successfully completed and passed a thorough (EFTI) Equinox Fitness Training Institute and with my services I will create a program designed to meet your goals. Each Training Session lasting 1 hour.
Training Philosophy
Your body is an amazing machine that adapts to the stresses applied to it through exercise.
Education
ISSA
Bio
Philosophy Your body is an amazing machine that adapts to the stresses applied to it through exercise. My favorite exercise is Abdominal exercises and bench pressing for myself! Training Since 2012 Gender Male Certifications ISSA, OTHERS My favorite quote is Fitness is a lifestyle. Experience International Sports Science Association-- • ISSA Final Grade 90.3% Patrick S. Gamboa BS, MSS, FNBFE Chief Operating Officer International Sports Science Association "Overall you did a great job and it is apparent by your programs that you now have a solid understanding of how to safely and effectively work with your clients". Former Equinox Trainer in NYC