THE PERSONAL TRAINER CONNECTION!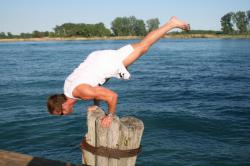 Specialties
Strength Building
Body Building
Weight Loss
Rehabilitation
Yoga
Aerobics
Spin
Kick Boxing
Body Sculpting
Nutrition
Training Locations
home
gym
studio
work
outdoors
Personal Trainer Overview
Your training package doesn't just stop at your typical 1 hour session, I take my clients grocery shopping, help them cook meals, I am available 24/7 for your support hot line, you'll receive weekly newsletters with inspiring stories and life impacting articles for you to read or even pass on to loved ones. I'm all about making dramatic changes in individuals because most of us are looking for that in life, remember the harder the road the strong you become. Which brings me to this point...I am a hard trainer, I expect your best, I am fair but only when your doing well for yourself, you'll hate me for an hour but love me until the next time, I go the extra step for my clients and most gain a good friend too. Understand I have methods to my madness so we must gain trust with one another...I will never lead you wrong or give you false information. I also work with a team of doctors and specialists if you have medical conditions. Combining all efforts of physical exercise, nutritional support and being medically evaluated makes a wonderful recipe for quality life - not just some gimmick for "Good Health".
Training Philosophy
I will keep your workouts challenging, entertaining and always something new...you'll never have the same workout - EVER!! I believe that the more variety you put in your life the more the body will respond...rotating your training, your eating and the ways you channel your stress all have effects of how you feel, look, act and function. Many people don't take care of themselves well enough to avoid chronic diseases...which is sad that America is one of the unhealthiest nations in the world. Make time for yourself...even if you don't want to become the next super athlete - you must take care of your body, mind and spirit simply because nobody else will do as good of a job as you. Plus we can't rely on others to for our good health...that gives us a way to blame someone else for your poor health. You see I will get in your mind because that controls every cell in your body...so that's where much of this starts. Don't worry I'm not some crazy lunatic physco trainer that escaped from a loony bin...that was my brother!! I'm only kidding!! Every step of the way you'll have support and a means of contact to obtain any information you'll need (recipes, meal plans, medical research backed by Clayton College of Natural Health). My team of assistants will handle your scheduling billing and any specific needs you may need while training with Defined Personal Training.
Education
BS COMPUTER SCIENCE BS NATURAL HEALTH CURRENTLY ENROLLED IN DOCTORATE PROGRAM OF NATUROPATHY
Bio
I am an extremist...I am to the point and right up in your face kind of guy. With that said...I am a trainer by choice...not by necessity!! Simply because I found a true passion in what I do and that is why I am not your typical "Trainer". My background stems from serving 8 years in our beloved United States Marine Corps from 1992-2000. I was responsible for training individual Marines and groups of over 300 troops at a time...facing many challenges training that many people definitely instilled experience and an understanding of the uniqueness each one of us possesses. While serving, my main MOS (Military Occupational Service) or job was setting up large telecommunications networks utilizing satellites, radio shots (UHF/SHF), encrypted switching units, fiber optics and specialized telephones in order to provide communications support for our front line units.