THE PERSONAL TRAINER CONNECTION!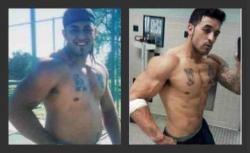 Specialties
Strength Building
Body Building
Weight Loss
Rehabilitation
Aerobics
Kick Boxing
Body Sculpting
motivational expert
Certifications
•ACE-Certified Personal Trainer • Health Coach • Fitness lifestyle transitioning Specialist
Personal Trainer Overview
Certified (ACE), insured, CPR, 10+ yrs. experience. Specializes in fitness lifestyle transitioning, weight loss, motivational expert,interval training & injury rehab. I pride my self on the ability to transform anyone. Offers program design, fitness testing & nutritional counseling. Gives a fun, complete, personalized workout!
Training Philosophy
I know there are many confusions and stresses to choosing a fitness program. I've developed a very simple and effective approach. This is based on your own unique needs and goals that cuts through the clutter. This unique approach will bring your own unique success without the stresses and pressures. We realize that everyone has their own unique goals.Some might want to become a bodybuilder or power lifter. While Some just want to feel better physically and lose a couple of pounds. This is the reason we simplified it to your individual needs. With us people lose 60 lbs and do a complete body transformation. We have people lose 10 lbs and adapt to a healthy lifestyle. The choice is up to you we are here to provide the comfort, tools and motivation to get you to your goal.
Education
I personally have a deep back ground in exercise physiology and kinesiology. I and my team of expert fitness trainers are all certified through ACE, ISSA, and NESTA, I also transformed my body so it gives me a deeper understanding of your struggles which helps me give you maximum results. After all, nutrition is 80% of your maximum success
Bio
My journey with fitness started some 10 years ago, I was out of shape around 35% body fat and had horrible eating habits. I always wanted to have that physique but it seemed so unrealistic( so I thought) One day I decided to make a change in my life and I never looked backed. With a lot of errors on my journey I succeeded. I realized that there is so much more to fitness than just lifting weights. ITS A LIFESTYLE! Its about balance. Its about making fitness a habit so you don't have to use much energy and just becomes part of life. I will guide you through nutrition, exercise and motivation to achieve your goal