THE PERSONAL TRAINER CONNECTION!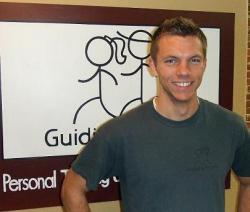 Education and Support is the key.
Tim Nurnberger -
916-626-7739
Lincoln, California 95648
Trains both men and women.
contact trainer
Specialties
Strength Building
Weight Loss
Aerobics
Toning
Personal Trainer Overview
The focus of Guiding Fitness is not only to get you in shape, but also to help you maintain a happy and healthy lifestyle. We think of ourselves as life fitness coaches and not just personal trainers. When you give us the opportunity to work with you, you gain a support system for life.
Training Philosophy
Well, for starters, there is no such thing as a typical workout at Guiding Fitness. Each program is customized to fit your needs and personality. We change the workout as much as possible to optimize your results...and to keep it fun. If we had to describe our training style though, we would say that it involves a lot of functional exercises. We don't use big machines or barbells. We use your body weight with the assistance of dumbbells, balls and balance boards. We believe that this is the "new and improved" way to get the most out of every workout.
Education
Bio
Born and raised on a farm in Southern Illinois, I had never envisioned myself living in California and working as a personal trainer! My interest in training began when I joined my first gym at the age of 18. I absorbed as much information as I could about fitness from books, articles on the internet, and even other individuals to ensure I could get the most out of my time spent in the gym. As with Kacie, I attended school and 'went through the motions' not really knowing exactly what I wanted to do. After so many talks and suggestions of 'you should do what you enjoy,' I decided to do just that! I became certified by the National Council on Strength and Fitness as a Personal Trainer with the knowledge and skills to change lives! There are no two people that are the same, but clear goal setting and development of a solid action plan coupled with nutritional guidelines and accountability will pave the way to allow ANYONE to succeed in their specific fitness or weight loss goals.