THE PERSONAL TRAINER CONNECTION!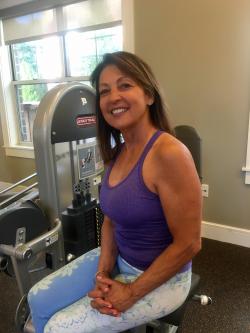 Specialties
Strength Building
Body Building
Weight Loss
Body Sculpting
Competition Coach
Personal Trainer Overview
Free weights, Functional training, Kettle-bell,flexability and mobility. Metabolic weight training
Training Philosophy
To inspire and help people reach their dreams and improve their image,health and well being. Through expert coaching,weight training and custom tailored nutrition plans.
Education
TRX,Bosu,Kettle-Bell and Muscle Conditioning.
Bio
I started personal training in the mid 1980s. I also started competing in bodybuilding at this time. I achieved success, winning many awards, in bodybuilding early on and it continued to develop throughout my career. I began working at a health club in Boston and built up my clientele. After working as a trainer fir different gyms, I decided to venture out on my own. Working independently was a bold move, since being a female personal trainer was virtually unheard of on the East Coast in the mid 1980s. However, I was highly passionate about it being my profession. My expertise was weight training and competition prep. I attracted women and men who wanted to become fit. My skills developed as a coach from my own competition experience. During that time I learned to created comprehensive nutrition programs that helped me look my best and win many titles. I also learned how to design the ideal training program for each specific body type and competition category; Bikini, Figure, and Bodybuilding. Throughout my career I won State Overall Champion in various organizations and competed at the Pro level. I work with a select number of people so I can provide the closest personal attention and give excellent coaching. Few things give me as much joy and excitement as watching my athletes transform themselves and take home a win. My pledge to my clients and competitors is to guide them and share with them the tools they need to deliver their very best, whether on stage or in life.