THE PERSONAL TRAINER CONNECTION!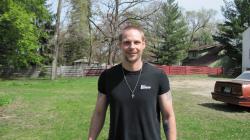 Specialties
Strength Building
Body Building
Weight Loss
Rehabilitation
Aerobics
Certifications
State Certified through the Blue Heron Academy of Healing Arts and Sciences. Nationally Certified through N.B.C.A.
Personal Trainer Overview
We are a 24 hour personal fitness training service. We specialize in you, the client. Your goals, your needs, and your doctors recommendations. Equipment is optional. Our goal is your results.
Training Philosophy
Every Client of ours, is assessed , and goes through a fitness test to see what level of fitness they are, as a starting point. Whether the client wants to lose, gain, or maintain weight, we will design a program just for them. Before any strength or endurance training, and any cardio- vascular training, there will be a warm up of at least 5 minutes. And following will be at least a 5 minute cool down, followed by stretching. We believe that in order to maintain good health, is through exercise and nutrition, along with good, healthy habits. We provide food and exercise journals, so that clients can track they're progress. We also provide a group- social network, so that clients can interact and share work outs, stories, pictures, events, and success's. All of out Trainer are state certified, C.P.R. certified, and insured
Education
Attended The Blue Heron Academy of Healing Arts and Sciences. Studied from ACE personal trainer manual, which includes: Exercise Science, Screening and Evaluation, Principals& Methods of Training, Individualized Program Design, Leadership & Implementation, Injury Prevention & Legal Issues, Exercise Physiology, Human Anatomy, Biomechanics and Applied Kniesiology , Fitness and Exercise, Muscular Strength and Endurance, Strength Training Program Design, Flexibility ,Special Populations and Health Concerns and Programming for the Healthy Adult.
Bio
It's All About You! was started in Feb. of 2010, In Lansing Mi. for clients in a 50 mile area.