THE PERSONAL TRAINER CONNECTION!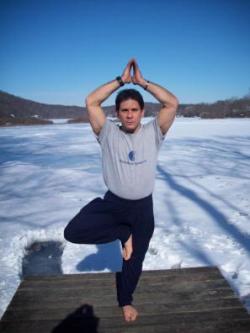 personal trainer for the mind and body
steve Guttman -
973-664-0142
Denville, New Jersey 07834
Trains both men and women.
contact trainer
Specialties
Strength Building
Weight Loss
Rehabilitation
Yoga
Pilates
Aerobics
Chi gong stress management b
Training Locations
home
studio
outdoor
New Jersey's only Mind Body
Certifications
Personal Trainer certifications ISSA
TRAINING FOR WARRIORS
AAAI Yoga Instructor certificationS Himalayan Institute
Serenity Yoga
Johnson and Johnson Health Management AND AAAI Chi Kung Instructor Certification Lee Holden Certified Mat Pilates FROM AAAI CPR and First Aid Certified Certified Clinical Hypnotherapist through American Institute of Applied Hypnotherapy and Psychotherapy . licensed massage Therapist through Morris Institute of Natural Therapeutics and many other massage certifications
Personal Trainer Overview
As a Personal trainer and Wellness professional with 30 years experience focus and passion is making a major positive impact on your life.My extensive education includes a degree in exercise science,Physical education certification,national certifications in Personal training,TRX,Yoga,Chi Kung. certified clinical hypnotherapist ,teacher of Meditation
Training Philosophy
My focus is on helping you achieve all your dreams and aspirations through overall, health and fitness. I can train you the tradional ways as other trainersbut my philosophey is on helping to also train you with your mind and emotions. ,and trained in other mind Body modalities such as hypnotherapy I can help you work on not just your body but your brain. Essentialist my focus is also on Training and recovery as I am also a massage therapist with 30 years experience. As far as my beliefs go ,being healthy is essential to living. Without your health how can you really enjoy your life to its fullest ? I belief its important to focus on taking care of your health through eating right,exercise as well as specific skills and training for your mental emotional health.As far as exercise goes its key to find the type of exercise that not only will give you the results you want but also you enjoy doing. one of my strengths is making exercise enjoyable.Examples of training I do include traditional training including all types of resistance training including weights and body weights,utilizing newer techniques such as TRX,High Intensity training and tabata. Along with this I can train you in Yoga and /or Chi Kung or integrate them into your traditional segment of the workout.Besides this I can help you work on your mental ,emotional self with my background in meditation,hypnotherapy and Brain Gym. Along with this I believe it eating a balanced meal,fresh,whole foods. I work with my clients on what is the best way for them to eat. We will go over their health,exercise and eating habits to come across the most effective way to eat for them. I also know its key for them to take a day off from eating right and exercise once in a while. Its has to be balanced for the client. I am motivated knowing that I have helped make a difference in my clients health and well being of body and mind.
Education
Exercise Science degree from Kean University . internship with Ethicon,corporate fitness center Certified Physical Education Teacher state of NJ 25years experience as a personal trainer in numerous settings including fitness centers,massage and chiropractic centers
Bio
I am a very healthy,energetic 54 year old man who lives in Denville NJ. I share my 11 year old son and dog exactly %50 with my former wife in a great partnership. I got exposed to Yoga at age 12 in Sleep way camp and have been ding it ever since. My older brother got me in to weight training at age 16 and would share shoulder massages with my sister at that age as well. Eventually I gained all of my training and education in these and other modalities.