THE PERSONAL TRAINER CONNECTION!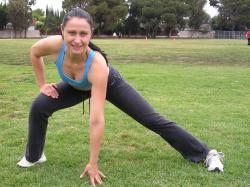 Specialties
Strength Building
Weight Loss
Aerobics
Kick Boxing
Body Sculpting
Certifications
5/2009 Personal Trainer Certification ISSA 5/2009 CPR with AED
Personal Trainer Overview
If you are looking for an age-appropriate, fun-approach to helping your teen become more physically fit- right in your own home -then you've come to the right place! Hello, my name is Silvia and I am a certified Personal Trainer with excellent experience in Teenage Personal Training. 5/2009 Personal Trainer Certification ISSA 5/2009 CPR with AED I have specialized in one-on-one personal fitness training for teens and I am committed to providing the best, safe exercise routine and positive motivation for teens so successfully achieve safe weight loss, improve health and physical condition through a program that will change their life!
Training Philosophy
Being a personal trainer, my objective is to teach teenager proper physical fitness and improve nutritional habits, through creative, personalized, safe workouts and healthy nutrition plans. Making fitness part of a teen's life is a great way to improve self-esteem and build confidence and a great way to get teens involved is to make fitness fun! I have sense of humor and patience when it comes to training teenagers! My workouts are designed to be fun, stimulating and act as a springboard to a healthier life-as a trainer, I know how to help your child to get in the habit of making exercise part of daily routine and to improve better and healthier eating habits. I will create fun, effective and changing workout sessions. They will have more knowledge & understanding about how to eat healthy foods.Getting started on a personal training program at a young age offers many benefits and will set for optimal progress.: Training sessions will help to lose weight, improve sports, shape up, feel better and have more confidence. Make your child be healthier and feel good Better weight balance· Training session will give your child not only another dimension, but also add structure· Increased energy levels· Training helps build confidence &sense of accomplishment Being able to concentrate better in school· Help developing a habit of making exercise and healthy eating part of d daily routine· The skills and information they learn will transfer directly into their adulthood· Creating a healthy and athletic lifestyle early will help them to have one later
Education
Education and formation 06/1997 German Abitur (B) 09/1994 – 06/1997 Commercial high school, Geislingen, Germany 09/2004 Bachelor of Science Business Administration (A-) University of Science Kempten, Germany 10/1999 – 09/ 2004 Study of Business Administration University of Science Kempten, Germany Subjects of study: •Marketing, International Management 09/2001 – 01/ 2002 Study abroad program (Exchange student) School of Management L'ESPME, Nice, France Subject of study: •Direct Marketing, advertising, analyze of industry •Business French CERTIFICATIONS: 06/ 2009 Personal Trainer Certification with ISSA 05/ 2009 CPR with AED Training FITNESS EXPERIENCE: 06/ 2009 - present Personal Trainer · Training clients at homes, parks, stairs, on the beach · Creating individual workout plans · Fitness Testing and Assessment · Strength Training and Cardiovascular Conditioning · Nutritional Analysis + Nutrition Plan · Core Conditioning · Balance & Flexibility · Functional Training 01/2005 –01/2007 Arabesque Sport studio, Geislingen, Personal Trainer Intern/ Part-time, seasonal Learning who to create relationships with potential clients Helping out at front desk, customer service, interacting with members Assisting in operating fitness facilities, gym and retail sales area Explored, learn and understand the fitness industry Learning who to create relationships with potential clients Acquire skills necessary to perform personal training well Gaining valuable new skills to build and grow skills, knowledge Assisting gym members with machines, diet advice, new cardio workouts Tracked client paperwork
Bio
My passion is fitness, healthy vegetarian diet, nature and positive attitude. " I will take you through a challenging and energizing full-body workout." Look & Fell Good Silvia exemplifies fitness. Being a certified personal trainer, Silvia has quickly become an expert in the health and fitness arena. Perform Better " I have helped many people to meet their goals, overcome limitations and challenge" Be Healthy When it comes to finding the best female personal trainers Los Angeles, Silvia Espiritu is the name to trust. Having a positive attitude and a winning smile, calmness and patience, Silvia is dedicated to inspire and help you achieving a happy, healthy lifestyle and your personal fitness goals.