THE PERSONAL TRAINER CONNECTION!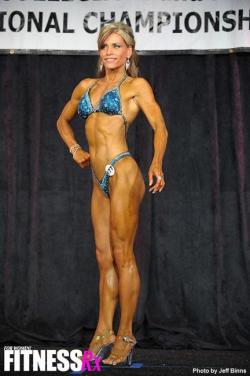 Functional Fitness and Body Sculpting
Sherry Winslow -
Carlsbad, California 92009
Trains both men and women.
contact trainer
Specialties
Strength Building
Body Building
Weight Loss
Body Sculpting
Certifications
ISSA Certified Personal Trainer
ISSA Specialist in Performance Nutrition
TRX Trainer
P90X Trainer
Les Mills Grit and CXWorx Trainer
Winning NPC Figure Competitor
Personal Trainer Overview
I've been very fortunate to be able to do what I love for a living. I have written over a thousand personalized nutrition and training programs for my clients. That personalization has led to very happy and healthy athletes and regular folks too! It's my goal to make you happy and healthy by default, to inspire you to be better, to spark your appreciation for great health, to entice you to live a greater quality of life, to coach you to achieve a long-time goal, to rally you to organize your life so you can fit in the activities that you need to stay healthy, and, simply put, to make you the best you that you can be. Our workouts will include kettlebells, resistance tubes, bodyweight, straps, bars, stability challenges and more. We train hard at every session and keep you on track with your nutrition so you get results. Let's get started!
Training Philosophy
My love for coaching and inspiring people to be their best led me to become an aerobics instructor and weight coach at 18. My classes were always filled and folks were constantly asking for more time and more information on how they could have more energy, get a tighter waistline, build bigger muscles, feel amazing and DO MORE! It was at that point I realized that I simply must use my gift of motivating and inspiring to make a difference in people's lives. I believe that we CAN DO anything we set our minds to.
Education
ISSA Certified Personal Trainer, ISSA Specialist in Performance Nutrition, Lifestyle Coach
Bio
Training with me will NOT feel like your average training session. We will build up your entire body while pushing you through your perceived mental and physical limits. There is much more to building a body (and mind) than what happens in the weight room. I train my clients for flexibility, agility and durability. What we do today MUST help us build our bodies up, not break them down. There are many trends that hit the fitness world and claim to be the only thing you need to be doing to get your body in shape. Not so! Your body needs variety to keep making progress. And your mind needs variety so that you don't get bored out of your skull and stop being active. Your body and your mind remain stimulated on my programs and you will reach your short-term, long-term and lifetime goals if you follow my coaching and agree to absorb the reasons WHY we eat and train in specific ways. I want to work with you if you have identified realistic goals, are dedicated to those goals, can commit the time needed to reach them, and have a will-do attitude. Your success hinges on your level of commitment. My level of commitment with all of my clients is 100%. Together we will succeed in reaching your goals and beyond. Enough talking, let's get to work!