THE PERSONAL TRAINER CONNECTION!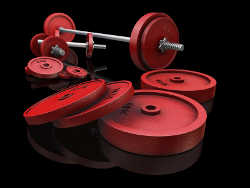 Time for a change?
Shady Barsoum -
(732) 492-8724
Asbury Park, New Jersey 07712
Trains both men and women.
contact trainer
Specialties
Strength Building
Weight Loss
Body Sculpting
Certifications
National Personal Training Institute (NPTI)
Personal Trainer Overview
My strength training program will enable you to lose those unwanted pounds, gain muscle tone, and improve your overall health and appearance. You will be completely revitalized by my program! My unique approach will help you transform both body and mind. Let's face it, most trainers just watch you exercise. If you want to achieve real, long lasting results, you must do more than exercise your body. You need to exercise your mind as well. With my program, you will change your perceptions and attitude about exercise, fitness, and health. I will inspire you to exercise determination and maintain motivation. Breaking bad habits is one of the most challenging things that one can face. Together, we will replace bad habits with good ones. You will develop habits that uplift your spirit and bring you happiness through fitness, good health, and mental clarity. I will help you set goals and reach them. I don't just show you how to do an exercise; I educate you in the areas of strength training, cardiovascular endurance, and proper nutrition.
Training Philosophy
There is nothing like the feeling you get after a nice hard workout. That sense of completion, determination, and will power you receive from a hard earned workout stays with you throughout the day and revitalizes other aspects of your everyday life. You not only physically feel great, but mentally you are sharp, clear headed, and ready to tackle whatever life has planned for you that day. What a natural rush! I realize not everybody feels this way when it comes to working out and fitness in general. And thats where I come in. I will be your motivation - at least in the beginning. But ultimately I want that motivation to come from inside you. That self motivation will grow as you progress in your training, begin to transform yourself, and see results. And to help you along the way I will employ different techniques to make workouts fun, challenging, and a bit different each time.
Education
I hold a bachelor's degree in Biology from Rutgers University. And graduated at the top of my class at the National Personal Training Institute (NPTI).
Bio
Here is a little about me: I am 37 years old. I currently live in Ocean Township, NJ. I grew up in Jersey City, NJ, where at a young age I learned to run and run fast! As long as I can remember I have always loved working out and staying fit.