THE PERSONAL TRAINER CONNECTION!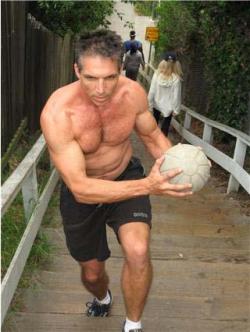 Fitness for a Better Life
Sean Higgins -
(310) 902-1750
Marina del Rey, California 90292
Trains both men and women.
contact trainer
Specialties
Strength Building
Body Building
Weight Loss
Body Sculpting
Balance Expert
Personal Trainer Overview
I emphasize core training in the beginning phases. The purpose is to ensure that when building strength and endurance in later phases it is being built upon a strong foundation. A strong foundation is essential for good posture, proper form, maximum benefit, and minimal risk of injury. I also emphasize balance throughout all phases of training. Balance and core go hand in hand-the core gets stronger as balance improves and balance improves as the core gets stronger. And, no matter what your sport or favorite activity, improved balance invariably leads to better performance.
Training Philosophy
My basic philosophy is-you can only build a strong foundation from the inside out. To begin to do that it's essential to know what foundation you already have. This is done through a thorough postural and functional assessment. This assessment will indicate any areas that need special attention. It is important to do this because if you start training before you've corrected any postural distortions and imbalances you'll only end up re-enforcing them.
Education
UCLA CSUN Study Strength and Conditioning training technique with Peter Rouse, PhD, MS, NMT
Bio
As a native of Los Angeles, I graduated from Santa Monica High School in 1982 where I was a varsity wrestler. One of my main goals in life is simply to remain active. To achieve this goal I regularly play doubles in beach volleyball, take 40 to 140 mile bike tours around L.A. and Orange County and run the canyons of the Santa Monica Mountains. In 2007 I ran my first marathon and have enjoyed long distance running ever since.