THE PERSONAL TRAINER CONNECTION!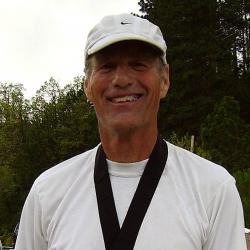 unlock your potential , improve your health, achieve your dreams
scott forrester -
541 536 4822
La Pine, Oregon 97739
Trains both men and women.
contact trainer
Specialties
Strength Building
Body Building
Weight Loss
Rehabilitation
Aerobics
Body Sculpting
Personal Trainer Overview
I place an emphasis on mind/body unity.The mind teaches the body and the body teaches the mind. Few of us reach our absolute potential so this process of learning in ongoing through life. I believe that everyone starts from the place they are today. A number of mind/body disciplines have been developed but I do not start with preconceived ideas about each client. A series of sessions is designed to progress each client toward his/her individual goals. I use techniques that vary with each client. I teach aerobic principles, weight training and body sculpting, running, relaxation , flexibility, improved body usage, senior fitness, and weight loss
Training Philosophy
I believe first in doing what motivates you and what is fun, fulfilling and enjoyable for each person. All training should have consistency as its foundation. Success comes from being process oriented first. Goals are met much more easily if the process is fun. It is important to realize that exercise does not have to be hard to be effective. Small changes can reap big rewards. When the right foundation has been laid then training can be incremental, and progressive. The intensity can be matched to the clients health, fitness, or even competitive goals.
Education
ACE certified personal trainer since 1999 licensed Physical Therapist Assistant Running form coach Currently enrolled in Feldenkrais professional training program
Bio
My interest in fitness goes back over 40 years to when I first got involved in High School track. I carried this experience over into some exposure to junior college running. Looking back , although I was not blessed with a lot of competitive talent, the most important thing I learned through these experiences was a love of running and exercise. That is one of things I would like to pass on to others. I also have extensive experience with overuse injuries and how to prevent them.