THE PERSONAL TRAINER CONNECTION!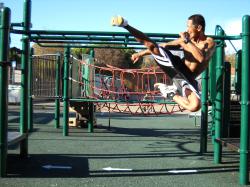 Specialties
Strength Building
Body Building
Kick Boxing
Body Sculpting
TRX, kettlebells
Training Locations
home
studio
work
outdoors
Personal Trainer Overview
Samfitness4life is committed to assisting the individual in reaching and attaining their maximum physical potential. Through a unique and customized fitness program tailored to your needs, Samfitness4life will help you attain your goals with grace and style.
Training Philosophy
As a fitness enthusiast in martial arts since age 7, Sam is fully qualified to bring you a challenging and unique workout that produces results. His training philosophy is to assist the individual in reaching and attaining their maximum physical potential. By combining strength training, stability and intense cardio routines you will work with a range of techniques such as: kettlebells, TRX, boxing/kickboxing, speed, agility, and quickness training and core conditioning. Sam is an experienced professional fitness trainer who will change your life! He cares about you, and will develop a personal training program geared to you!
Education
TRX Kettlebells Golden Glove Boxing Champ US Top of Ten National Karate Championships boot camp instructing boxing/kickboxing
Bio
For over 35 years, he has faithfully practiced his own personal training regimen of strength, weight, and cardio training in order to excel in the various fighting disciplines. The result? He became a certified Amateur Boxer registered with USA Boxing, and in 98/99 he was the California state Golden Gloves champ in the batamweight class, with an undefeated record in 20 bouts! In keeping with his passion of physical conditioning, Sam has served as a staff personal trainer at several local fitness facilities, including Powerhouse, Body Tonix, Club One, and most recently, Crunch. On October 2, 2009, Sam became an independent trainer by establishing his own personal fitness business: samfitness4life.com.