THE PERSONAL TRAINER CONNECTION!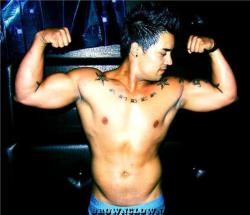 PERSONAL TRAINER....
Saint Blake Zabaleta -
5203087611
Tucson, Arizona 85711
Trains both men and women.
contact trainer
Specialties
Strength Building
Body Building
Weight Loss
Body Sculpting
Certifications
•Certified Personal Trainer (A.C.E.)
Personal Trainer Overview
The personal training fitness programs incorporate all aspects of whole body fitness for the fitness programs - strength training for building total muscle strength and whole body strength, cardiovascular strength or aerobic conditioning, endurance training for increased stamina, energy, and endurance, flexibility stretching exercises for increased muscle flexibility and agility, diet nutrition for proper eating to have more energy, to feel much better, and to achieve ones individuals heath fitness goals.
Training Philosophy
Exercise enhances every aspect of physical and mental well being. I strive to encourage, support, and challenge my clients to feel strong, confident and to find fitness programs they truly enjoy.
Education
Weight Loss Exercise Body Sculpting Muscle Toning Fitness Motivation Body Shaping Weight Loss Diet Diet Nutrition Plan Toning Workout Routine Health and Fitness Boot Camp Total Body Toning Target Toning Exercise Weight Loss Health Strength Training Program Weight Loss Ball Workouts Exercise Core Workout Pilates Training Weight Loss Plan
Bio
I been training for 8 years ....i enjoy every thing about the gym :)