THE PERSONAL TRAINER CONNECTION!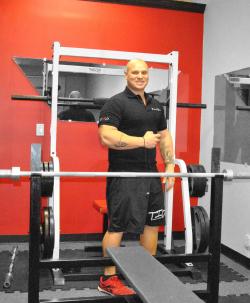 Garage Muscle Athletic Group
Ryan Spiteri -
(248)808-9514
Madison Heights, Michigan 48071
Trains both men and women.
contact trainer
Specialties
Strength Building
Body Building
Weight Loss
Yoga
Aerobics
Kick Boxing
Body Sculpting
Functional Training, MMA , Boxin
Training Locations
gym
studio
outdoor
515 W. 11 Mile Road Madison Hei
Certifications
Certified Personal Trainer - ISSA Approved Referee - Associations of Boxing Commissions. CPR/ AED Certified - American Heart Association. Insured - up to $3 million for liability coverage.
Personal Trainer Overview
Garage Muscle LLC. was founded in 2007 by professional personal trainer and fitness expert Ryan Spiteri. With his passion for the health and fitness industry and personal zeal for helping people sustain a healthy lifestyle and his stern approach towards the strength and conditioning of athletes, he continues to transition his long term goals into reality, creating a valuable fitness empire that athletes, adult men, women and children can benefit from. Over the past 6yrs the company has grown to a recognizable height providing services such as; adult personal training, kids fitness, nutritional counseling and in 2011, formally releasing their athletic clothing collection Trained In Detroit Apparel & Accessories. As Garage Muscle remains affiliated with some of Michigan's most prominent athletes, the company continues to captivate the curious, benefit the dedicated and help the willing achieve their fitness goals towards success. For further information or details regarding our services, we encourage you to contact us to assist you properly.
Training Philosophy
Garage Muscle continuously operates openly among the public. The positive image and public opinion mean everything, especially in the increasingly influential realm of social media. As a positive role model CEO & Founder Ryan Spiteri plays an active role within our society, offering professional services and promoting such a reputable brand such as Trained In Detroit, it's imperative that Garage Muscle keeps the people informed/involved at all cost. Ryan has been featured in several newspapers, magazines and television programs. He's also done work for the film and radio industry. Please review a detailed description of all his work at: http://www.garagemuscle.com/public-relations
Education
High School graduate - 2000 College Educated - Associates
Bio
Ryan Spiteri is a professional fitness trainer and entrepreneur residing in the Metro Detroit Area. Through a series of self applied educational techniques obtained early on, Ryan has an indescribable optimistic outlook on his own personal life and passion for the health and fitness industry. Ryan became active within the fitness field at the age of 13. In an effort to increase his knowledge and continue the growth of his passion, he took on jobs working at various fitness clubs and supplement retail facilities. By age 19, Ryan secured his first official certification as a personal trainer. Ryan currently holds a certification via the International Sports Science Association (ISSA), with concentrations on bio-mechanics and physiology. Ryan also carries a certification in Kettlebell and TRX. Ryan is also an approved mixed martial arts referee credited by the Association of Boxing Commissions. He is a regular contributor to an assortment of local/national charity's and maintains a strong involvement through his own Anti- Bullying Campaign as a motivational speaker/spokesman too positively impact young adults and children. Also on his list of accolades, Ryan is a certified minister, model and part time photographer. In 2007 Ryan remained persistent for success and founded the company Garage Muscle LLC. The overview of the company was developed through Ryan's unorthodox training techniques and well structured fitness programs, all of which were available to his clients using his partially finished 2 car garage and the local high school field track. In an effort to generate new clientele, Ryan began sponsoring local professional/amateur mixed martial arts shows. Because of the level of popularity and the hundreds of thousands of fans and enthusiasts the sport was attracting at each venue, it was deemed a perfect marketing ground for potential prospects. However, the company was overwhelmed with positive feedback and intrigued the general population, offering apparel, accessories and supplements. Ryan became highly developed in 2011 when he launched his collection of casual/sport apparel and accessories brand, "Trained In Detroit". among the sports entertainment industry. The brand is universally marketed towards all sports, athletes,fans and sports enthusiasts, with the intention of giving off a positive energy of dedication, loyalty, determination and other key characteristics for success. Trained In Detroit became a registered trademark of Garage Muscle LLC. in 2012 and Ryan is currently seeking licensing opportunities with local professional sports organizations, hoping to reverse the negative reputation imposed on Detroit's iconic athletes.