THE PERSONAL TRAINER CONNECTION!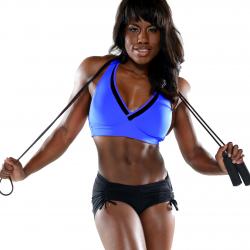 Specialties
Strength Building
Body Building
Weight Loss
Aerobics
Body Sculpting
Training Locations
gym
Private Upscale West LA Gym
Certifications
NASM (National Academy of Sports Medicine) CPR Certified Integrated Flexibility Specialist Pre/Post Natal Certified Sports Nutrition Specialist Weight Management Specialist IFBB Professional Women's Physique Competitor and 2014 Olympian
Personal Trainer Overview
I can't tell you how many times I've seen this since I started training in 1997... People embark on their body transformation journey, doing their best, and still not seeing results. Here's the truth... If you're only thinking about how what you're doing in the gym is driving your changes, you're missing half the point - the most CRUCIAL point. True transformation lies in training AND nutrition. Fat loss isn't just simply ruled by doing a ton of cardio... It's also about how you eat, how you WEIGHT TRAIN, and how you put all the puzzle pieces together. I not only lead my clients down the right path, but I'm dedicated to TEACHING them the exact methods they need, and habits they need to establish, to see lasting changes - for good. The packages I offer include in person sessions with me, a FULLY designed nutrition plan, workouts to do on your own outside of our sessions, and access to my private network of clients from across the globe for that added layer of motivation and support. So if you're finally ready to stop the frustration, stop the confusion, and to love what you see when you look in the mirror, set up your free consultation with me today. Let's take your game to a whole other level.
Training Philosophy
Less time, higher quality is the key to your fitness success. It's about training SMARTER NOT TRAINING HARDER... I pride myself in my passion for fitness and my ability to get just about all of my clients the results they're looking for. I specialize in training men and women.
Education
Fordham University BFA in Dance Alvin Ailey American Dance Center (NYC) National Academy of Sports Medicine (NASM) Certified Personal Trainer
Bio
My name is Roxie Beckles, I'm a NASM certified personal trainer. Health and fitness is a true passion of mine, and I cannot imagine doing anything else at this point. I feel it is my purpose in this world to inspire as many people as I can, and I love that I get to do that on a daily basis. I have a passion for what I do. I have a passion and deep care for all of my clients and I am 100% committed to seeing them succeed. I've been in this industry for 13 years and have trained some of the entertainment industry's most familiar faces, however I really actually enjoy training regular folks like you and I who are looking to make huge improvements in their life, take control of their destinies through health management, and to reach new heights and levels they never thought they could.