THE PERSONAL TRAINER CONNECTION!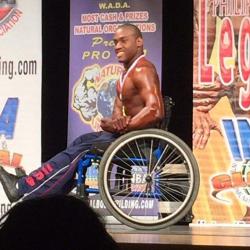 The Stone Power House
rory koonce -
(302)-377-0836
Wilmington, Delaware 19805
Trains both men and women.
contact trainer
Specialties
Strength Building
Body Building
Weight Loss
Rehabilitation
Aerobics
Body Sculpting
Certifications
Certified Master Personal Trainer -ASFA Certified Sports Nutritionist -ASFA CPR Certified Fist Aid Certified
Personal Trainer Overview
Are You Ready? Ready For What You Ask? To Become Stronger, To Take Your Body To The Next Level, We're Not Talking About A Crash Diet For A Quick Fix, We Are Talking About A TOTAL Lifestyle Change! Let Me Help You Make... "The Impossible is Possible!" Get Your FREE Stone PowerHouse Consult Please Do It NOW! CLICK HERE "Fortifying Your Body From The Inside Out With Whole Foods And Hard Work Will Make You Physically, Mentally and Emotionally STRONG!" That's The Stone Powerhouse difference: We'll fortify your body and prove progress with an ongoing fitness analysis We'll put an end to the quick fix microwave mindset that causes you poor results We'll change your negative, self-defeating lifestyle forever by modeling We'll help you lose weight or gain weight without dying from a diet you hate We only develop custom health/nutritional plans We are specialist when it comes to working with the PHYSICALLY CHALLENGED and MILITARY VETERANS: Our Wheelchair Fitness Training is the "next level" PT for Athletes or anyone in a wheelchair that wants to make fitness and better health a priority. We offer adaptations and considerations for various injury levels and always sensitive to individual abilities and any limitations. STRENGTH & CONDITIONING: Strength & Conditioning are a vital part of any athlete's training. Our strength & conditioning programs are specifically designed for all clients, including athletes, non-athletes or the physically challenged in wheelchairs. We will be adding more adapted programs to meet the needs of anyone regardless of their limitations. COMMUNITY SUPPORT: Through community events and educational programs we hope to not only inspire challenged athletes, individuals and children with disabling injuries or life challenges but also those around them. Understanding each other can help create an enriched environment for everyone. Furthermore, If a physically challenged individual can do it, so can YOU!
Training Philosophy
As a personal trainer it is my responsible to help people reach the goals that they desire both mentally, physically and spiritually. It is these three elements that produce any and all goals! So first together we must work on a positive of state of mind (I Can, I Will) from this derives the spirit (I AM) from this drives the manifestation of the goal (changing of the body)! I do not believe in weaknesses for they are nothing more than the manifestation of the goal in hibernation!
Education
Associate's Degree in Business
Bio
Rory Koonce Jr.; A.K.A. "The Stone PowerHouse" is a person who believes that the word impossible has no validity! In fact the brawny champion power curler shares his slogan with everyone that he meets, "The Impossible is Possible!" Having had to overcome being a paraplegic from birth weighing 1bl. 13oz Experiencing the seemingly insurmountable challenges that Doctors stated that Rory would never see, speak, walk, talk or have the use of the left side of his body. However, this was not in God's plans and at the age of ten he began walking. Currently Rory uses a walker, growing up he saw that people had an interest in how far the human body could be pushed, however that body was never one born with a disability. He then decided to see how far he could push himself not only mentally but physically as well. A former four time baseball champion, four time bowling champion, wheelchair track gold medalist Rory also wrestled in high school and has studied various martial arts including MMA and Brazilian Ju Jitsu. An athlete whom truly embodies hard work and dedication this he has appeared in many media outlets including 6 ABC's Prospective Delaware, The Delaware News Journal and MuscleProdigy.com where he was deemed a Fitness Prodigy. Rory has also appeared in Muscle & Fitness's Magazine Tough: Only the Strong Survive Issue in August of 2009 and January 2014. Today Rory possesses an Associate's Degree in Business and competes as a power curler for the World Natural Power lifting Federation (WNPF). To date he is the only person on record who power curls from a wheelchair. Rory has won the Delaware State Championship (December 5th, 2009), National Championship two years in a row (June 26th, 2010) and (June 4th, 2011) and the World Championship three years in a row (November 6th, 2010) (November 12-13, 2011) and (November 18, 2012). As well as holding the State, National, and World records in two different weight classes. Likewise he is a Certified Personal Trainer and Sports Nutritionist and is currently in the process of starting a Holistic Training Program for Disabled Athletes in order to continue to help all athletes and people alike. In 2015 Rory decided to actively compete in bodybuilding. His first competition what is April 25th 2015 where he competed in the INBA's Chicago Illinois State Championship. His first place victory allowed him to go on to the Ricardo Legends Classic on August 22nd 2015. once again with a first place win Rory went on to compete in and win the biggest event of the year the 2015 natural Mr. Olympia on November 11th 2015 in Las Vegas Nevada. Rory continues to embrace his namesake "The Stone Powerhouse" which is a metaphor for mental and physical strength. He strives every day to show that, "The Impossible is Possible" and truly is beyond physical.