THE PERSONAL TRAINER CONNECTION!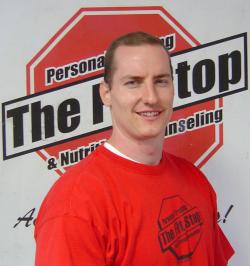 Personal Trainer - Gym Owner
Rob Kjar -
480-898-7280
Mesa, Arizona 85203
Trains both men and women.
contact trainer
Specialties
Strength Building
Body Building
Weight Loss
Body Sculpting
Core Training
Training Locations
home
studio
work
outdoors
Personal Trainer Overview
Our Philosophy here at the Fit Stop in Mesa, Arizona is to help change lives, overcome fear, accomplish goals, and improve the physical health and the well-being of our clients. The atmosphere in our facility is that of a family. The exceptional personal trainers at the Fit Stop are dedicated to helping everyone who steps into our facility accomplish their health regardless of their current physical ability. We help people see that they can do more than they think they can. We adopt the popular saying that "Success is a journey, not a destination". Our slogan is "Where a regular workout is just not enough!"
Training Philosophy
Our training style is different from most training facilities. The Fit Stop is an acronym that stands for Fully Integrated Training Structured To Optimize Performance. You will be amazed at how many exercises you can get done in 30 minutes. In a typical 30 minute workout, you can expect between 15-20 different exercises using everything from free weights, plate loaded machines, yoga, bosu balls, treadmills, bi-directional bikes, and weight vests all under the watchful eye of your own creative personal trainer. Each workout and nutrition program is customized to fit your goals. If you are looking to get into the best shape in a comfortable, supportive atmosphere, this is the place for you! Please call or come on in to try us for your Free Session! Boot camp sessions and In-home training are also available.
Education
Bio
As a 3 Time National Pommel Horse Champion in Gymnastics, Rob knows what it takes to train for a very specific discipline. Rob started gymnastics at age 8 and trained through college. After completing College, Rob turned to coaching gymnastics for 7 years where he helped produce State, Regional, and National Level champions and competitors. Rob joined The Fit Stop in 2004 and took over the business in 2005. Originally from Utah, Rob has been in Arizona since 1992 where he received a full scholarship in Gymnastics at Arizona State University. While at school, Rob studied Electrical Engineering.