THE PERSONAL TRAINER CONNECTION!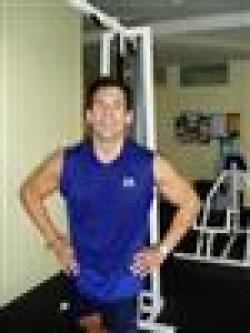 Orange County Personal Training
Rivak Hoffman -
(760)271-3064
Aliso Viejo, California 92656
Trains both men and women.
contact trainer
Specialties
Strength Building
Body Building
Weight Loss
Rehabilitation
Aerobics
Body Sculpting
Medical exercise and rehab
Training Locations
home
work
gym
studio
outdoor
Certifications
Coopers Institute Master Fitness pro NSCA Certified Personal Trainer American Academy of Health Fitness and Rehabilitation. Medical exercise and Post rehab specialist
Personal Trainer Overview
Rivak Hoffman is the most effective and inspiring trainer in Orange County, CA . His functional/athletic style fitness training programs are very intense and progressed differently for all fitness levels. Rivak trains people at all levels of fitness with incredible intensity for amazing results. I know a Orange County PERSONAL TRAINER can sound intimidating for some, but anyone who has the desire to make a positive change in their health, Regardless of your age or fitness level, whether you are a beginner or an advanced athlete our exercise and nutrition programs will motivate and inspire you to get in better shape than you have ever been and you will have the time of your life doing it.
Training Philosophy
We all know there are things we need to take care of in our lives, and somehow in the mix of it all, we forget to make the time to take care of ourselves. We can make time for health and fitness. The truth is, if we don't make time now, we may find ourselves suffering from a health concern, not having much time for anything and wishing we would have spent the few hours a week in the gym. Our ability to contribute and perform in our lives and realize our dreams is directly affected by our fitness level and our willingness to take action. Be a doer. If you are ready to make a change, and want to do it in the most effective way possible, and desire lasting results, consult with an experienced Certified Personal Trainer. You will gain more time than you spend.
Education
BS Biology MS Physician Assistant
Bio
5 years Medical Physician Assistant 12 Year Ironman Triathlon Competitor. 16 years Personal Fitness Trainer, 16 years Rehabilitation Specialist. 16 years weight loss specialist and nutritional expert!