THE PERSONAL TRAINER CONNECTION!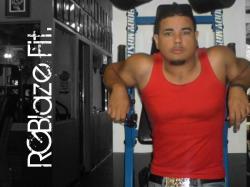 RgBLazefit Dont Just feel the burn Blaze it!
Richard Garcia -
9084228119
New York, New York 10011
Trains both men and women.
contact trainer
Specialties
Strength Building
Body Building
Weight Loss
Body Sculpting
Training Locations
home
gym
studio
work
outdoors
Certifications
Expert Rating Personal Training Certification.
Personal Trainer Overview
Details * Hometown: Newark * Body type: 5' 9" / Athletic * Ethnicity: Latino / Hispanic * Zodiac Sign: Aries * Children: Someday * Smoke / Drink: No / Yes * Education: High school/ College * Occupation: Front Desk/ Personal trainer/ Club promoter Blurbs About me: RGBlaze Fitness is my new company I have started. My name is Richie "Blaze" Garcia. Iam 26yr old Personal Trainer, and Health Enthusiast. I created RGBlaze Fitness to Help those Who want to get into the best shape of there life and to also be the healthiest they ever been in there Life! Through Healthy Dieting, High intensity Cardio, and Resistance Training I will help you achieve your goal! I train in your Home, Outdoors, or In a Gym! Please take advantage of a Free Consultation and Check what I have to offer! If interested Please Do not hesitate to Write me a message or Give me a Call @ (908)977-7702 Richie Blaze is the name. So Don't just Feel the Burn, Live it!
Training Philosophy
My way of training is this go hard or go home, I like to work with people who have as much fire as I do in there body transformation. Doing everything in the book to force your body to change into the body you always wanted. Always going and always changing, never the same routine twice getting your body use to the change. my belief is that
Education
I have 10yr of Health and Fitness Experience, I work at Steel gym voted top 6 Bodybuilding Gym in the Country, I currently go to school for Physical Education.
Bio