THE PERSONAL TRAINER CONNECTION!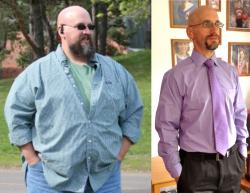 Fat2Flat
Randy Olson -
(678) 516-1119
Cartersville, Georgia 30120
Trains both men and women.
contact trainer
Certifications
ISSA: Certified Fitness Trainer Specialist Fitness Nutrition
Personal Trainer Overview
As you can see I have gone from fat to flat myself, I can help you achieve your health and fitness goals. I have the perspective of a formerly obese person (362lbs) who can walk with you and truly understand the ups and downs, emotionally, physically and spiritually of the weight loss journey. As an ISSA-certified fitness professional with an MA in Transformational Leadership, I can help you set realistic goals and transform your health and your life for the better. I can help you look and feel your best. And I can help you enjoy yourself along the way.
Training Philosophy
The "WHY" is our weapon against everything, and everyone, especially ourselves, that tells us "you can't", "why try" or what ever else gets in our way of achieving our goals. The "WHY" does not have to be the voice of God or what we think of as earth shattering. It is unique to each of us. Ask yourself, Why? Why? Why.... Keep asking it until there are no more answers. AND then we write it down and keep it in front of us all the time. So that we can use it when we are tempted not to eat right or not to exercise. Darren Hardy stated once we know our WHY the How will take care of itself!
Education
Master of The Arts Transformational Leadership Bachelor of Science
Bio
In grade school and middle school I was the pudgy boy. I grew out of it in high school and was in great shape. Through college I spent most of my free time and work-time in the backcountry canoeing and backpacking. I got married and put on a little weight but was still out a lot. Then I became one of the camp administrators, less time out & more time in the office. The pounds began to add up but stabled out at around 285. In 2008, I became the caretaker for my mother-in-law because I was the only one that could pick her up and move her safely. Well, I became even more sedentary... and the pounds went up! To a high of 362 lbs. Then leading up to January 2011 I knew things had to change. and my journey from fat to flat began. I found a "Why" that kept me motivated and lost 195 pounds over the course of the next 13 months.