THE PERSONAL TRAINER CONNECTION!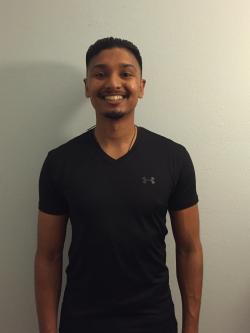 Rafazique
rafa islam -
(818) 384-8382
Tarzana, California 91356
Trains both men and women.
contact trainer
Specialties
Strength Building
Body Building
Weight Loss
Rehabilitation
Body Sculpting
Certifications
NASM - Certified Personal Trainer NASM - Corrective Exercise Specialist NASM - Fitness Nutrition Specialist NASM - Performance Enhancement Specialist American Heart Association - CPR
AED
& First Aid
Personal Trainer Overview
I put every one of my clients through a physical assessment to gauge their fitness and reveal their muscle imbalances. Once I am done with my assessments and I know what their fitness goals are I construct a customized plan to help them with their weaknesses and capitalize on their strengths.
Training Philosophy
When it comes to working out and eating right you have to find your happy medium. You want to look and feel great, while going out with friends and family and have a cheat meal or 2. Having bad food that tastes great is good from time to time. Just not all the time. When working out is concerned I always keeps my workouts fun by using different equipment like kettlebells, battle ropes, or plyo boxes. I don't like using machines, so perfect form is essential. Quality is more important than quantity.
Education
California State University of Northridge - Business Management
Bio
I became a personal trainer to help people get fit. I know how it is to get out of shape and can happen really easily.I'm really passionate about helping people get to their goals to help them live a healthier life. I use to have corporate 9 to 5 job and would eat out every day, and par take in every pot luck. I ate so much junk food and it slowly caught up to me. I was not happy with how I felt or looked. So, I made the change. I stated eating healthier and working and finally had the body I wanted. I had more energy and just felt good. After I changed things around for myself I helped some friends along the way and really enjoyed it. That made me go on and get my personal trainer certification, so I can help more people.