THE PERSONAL TRAINER CONNECTION!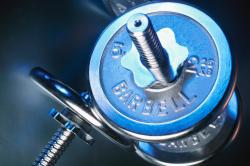 PHIL ROBB FITNESS - Premier Personal Health, Fitness, Wellness & Nutrition Training Services Since 1979
Phil Robb -
(800) 939-9986
http://www.philrobbfitness.com
Newport Beach, California 92658
Trains both men and women.
contact trainer
Specialties
Strength Building
Body Building
Weight Loss
Rehabilitation
Body Sculpting
Personal Training & Nutritio
Personal Trainer Overview
Phil Robb Fitness™ is dedicated to helping people live healthier lives by increasing their level of physical fitness and overall health awareness.
Training Philosophy
Since 1979, Phil Robb Fitness™ has been helping individuals from all levels of health and fitness, and from all walks of life, get into the very best shape of their lives. Our extensive array of health, fitness, nutrition and wellness services are effective, exclusive, innovative, motivational, fun and affordable! All of our custom-designed programs are founded on a solid base of advanced knowledge, superior skills and extensive experience. Each program that we create, regardless of its complexity or simplicity, carefully considers and utilizes the numerous kinesiological, physiological and nutritional factors inherent to each participating client. Our renowned personal training programs can be developed for individuals, couples, small to large groups, businesses and organizations. As a valued Phil Robb Fitness™ personal fitness training client, we can help you improve your strength, flexibility, endurance, posture, balance, coordination, cardiovascular health and overall physical appearance. You can lose body fat while developing lean healthy muscle mass, tone and firm, rehabilitate from an illness or injury, train for a specific sport or event, or participate in one of our extremely effective weight management programs. All of our services are provided on a by appointment only basis, and are always scheduled to your convenience. Consultations and personal training can be conducted in the comfort and privacy of your own home, at your office, at an outdoor training location, or at any other place of your choosing. Don't wait another minute to get started on the new you! Call Phil Robb Fitness™ right now for more information and to arrange your initial consultation! Reaching the level of personal health and fitness that you've always dreamed of is no easy task. Trying to get there all by yourself can make your fitness journey a difficult, confusing and extremely frustrating trip. Don't go it alone: let Phil Robb Fitness™ help you build and maintain a strong, fit, healthy and attractive body.
Education
UCLA / CSUN
Bio
PHIL ROBB: Personal Fitness Training Pioneer & Innovator Phil's love affair with fitness began at the age of ten when he received a set of weights as a Christmas present. Shortly thereafter in a corner of the family garage, with his new weights in hand and a copy of Bill Pearl's legendary book Keys to the Inner Universe by his side, Phil humbly began his training career. Hobby turned to profession when, in the early '70's, Phil took his first job at a Jack LaLanne's European Health Spa®. During his tenure at the legendary club, Phil worked his way up the ranks from Floor Instructor to Manager; but it was in the role of Instructor that he found his life's calling. A few years later, while studying at U.C.L.A., Phil began training with Vince Gironda – The Iron Guru – at the famous Vince's Gym in Studio City, California. On his "rest" days off from Vince, Phil would make the trip over the Hollywood Hills to the Mecca of modern-day fitness: Venice, California. There, at World Gym®, Gold's Gym® and the illustrious Muscle Beach weight pen, Phil trained with some of the most famous and colorful figures in the world of bodybuilding. Phil would eventually go to work for Vince at his gym, and later on work with Joe Gold; the founder of the world-famous Gold's Gym® chain. In the late '70's Phil officially hung out his first shingle and began working with collegiate and Olympic-bound athletes under the banner of Phil Robb Fitness™. Through it all, Phil's professional skills developed to the level where he quickly became one of the most respected trainers in the Los Angeles area. The 1980's were a period of remarkable growth and innovation for Phil. Early in the decade, he opened and operated his own chain of gyms and health clubs. Though his clubs were extremely popular and highly successful, Phil's training endeavors weren't confined within gym walls. In response to a growing demand from the entertainment industry, Phil created his Location Fitness Team™ company in 1984. Offering a variety of specialized services exclusive to the film and television community, Phil's Location Fitness Team™ introduced the first "mobile" fitness business to Southern California. By the late '80's Phil had created a plan for the ultimate in personal health, fitness and nutrition training; a facility that offered and consistently provided the most effective, efficient, safe, convenient, private, affordable and fun personal training services available. Shortly thereafter, the plan became reality when the gyms and clubs were sold and One-To-One Fitness Private Exercise™ opened in 1987. First appearing publicly as a limited membership training facility that specialized in personal fitness and nutrition training, Phil quickly evolved One-To-One Fitness Private Exercise™ into the first completely private personal training facility in Southern California. He offered health and fitness enthusiasts a fully equipped private gym that sold no open memberships. Personal training was the order of the day, and the facility operated by appointment only-one private training session at a time. In 2002, Phil decided to take One-To-One Fitness Private Exercise™ to the next level and create a training format that seamlessly integrated into the daily life of each client. Much like he had been doing for the entertainment industry since the mid-80's with his Location Fitness Team™, Phil wanted his training programs to be completely functional in the sense that clients would no longer be obligated to travel to him, use a professional training facility, or adhere to a program that required the use of very expensive commercial gym equipment. So the facility closed, the equipment was donated to a local high school, and the new, renamed, and completely mobile One-To-One Fitness Personal Training™ was born. With the One-To-One Fitness Personal Training™ evolution successfully underway, Phil began to refocus his attention on a growing part of the population that was being completely overlooked by members of the traditional fitness community: seniors. Having always advocated the importance of daily exercise for people of all ages, Phil began working on expanding a long-standing component of his business that would focus solely on health, fitness, wellness and nutrition during the senior years: 50 Plus Fitness™. First appearing under the One-To-One Fitness Private Exercise™ banner in the late nineties, 50 Plus Fitness™ offers safe, effective and fun physical exercise programs that combat the loss of muscle strength, flexibility, endurance and balance. By early 2003, the revitalized, stand-alone, 50 Plus Fitness™ was a huge success-again. In 2005, Phil took One-To-One Fitness Personal Training™ outside of Southern California and opened his first satellite location in Las Vegas, Nevada. In addition to the creation of a new series of training programs designed around the extreme weather conditions found in the Nevada desert, Phil also developed what became a hugely popular tourist-specific travel program: The Las Vegas Fitness Experience™. 2008 was another landmark year for Phil with a dramatic surge in his online popularity. Suddenly people from around the globe were contacting the Orange County trainer with requests for training tips, nutritional advice, and straight-forward guidance on the latest fitness trend. In response to the demand, Phil completely revamped, revitalized and rebranded his web presence; and by Christmas of that year, emerged online as a relevant and credible resource for his valued clients, other fitness professionals, educators and students across the country and around the world. Early in 2009, Phil experimented with the creation of three geographic-specific operations that focused on the needs and interests of his neighbors in beautiful South Orange County, California. Operating as separate divisions of his newly founded company Pacific Ocean Health™, Pacific Ocean Fitness™, Pacific Ocean Nutrition™ and Surf Fitness™ offered specialized services that were exclusive to those living on the California Riviera and Catalina Island. Today, Phil takes his decades of training experience, knowledge and skills directly to each of his highly valued clients; and the countless number of superior training sessions that he has conducted over the years continues to grow. In addition to holding two degrees, Phil is a Certified Fitness Trainer, a Certified Nutritional Consultant, a Certified Medical Exercise Specialist, a long-time Instructor for the President's Council on Physical Fitness, has written numerous articles for fitness publications and various periodicals, has published a popular series of training and nutrition guides, publishes his popular monthly newsletter Phil's Training Tabloid, and regularly posts fun, insightful and educational articles on philrobbfitnessblog.com.