THE PERSONAL TRAINER CONNECTION!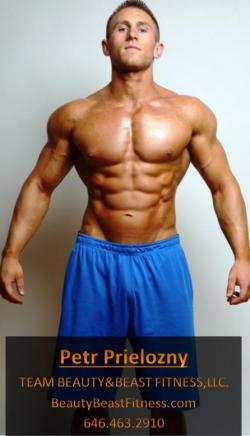 Specialties
Strength Building
Body Building
Weight Loss
Rehabilitation
Aerobics
Kick Boxing
contest preparation, stretching
Certifications
AFFA
ISCA
NASM
ACE
CPR/AED
Personal Trainer Overview
Petr Prielozny is the founder of Beauty&Beast Fitness, by Prielozny, LLC. The family-owned company has been bringing exceptional personal training and nutritional services to clients since 2010. Growing up overseas, Petr always had his eye on European fitness and diet trends. That perspective continues to fuel his approach today. And it's part of what makes Beauty&Beast Fitness unique. Petr's company creates customized fitness programs for clients after looking at the latest thinking here and abroad, then applying Mr. Prielozny's own fitness techniques and beliefs. A former professional athlete himself, Petr uses his a detailed understanding of human anatomy and nutrition to further shape successful programs for clients. Petr's overall mission? To help people see that by eating healthy and keeping fit we can help avoid poor health, extend our lives, and perhaps even be happier, more fulfilled individuals.
Training Philosophy
Its never too late to start.
Education
Nationally certified, insured and most importantly experienced.
Bio
Started with weightlifting when I was 15. When I was 17 I started to compete in bodybuilding. Before I moved to USA, I was already holder on several bodybuilding titles in Europe. In 2009, the year of my arrival, I have won several bodybuilding shows here in USA and confirmed my sport potential. On side on bodybuilding, I am also professional fitness model, well respected all over the world. Have worked for such names as CK, Armani, 2Xist, etc. As a side fun, I also competed in strongman competition and also did well. I am currently in off season preparation for USA National Championship in bodybuilding. Please, visit my website to learn more about my success and biography. Thanks in advance, Petr P.