THE PERSONAL TRAINER CONNECTION!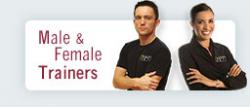 Specialties
Strength Building
Weight Loss
Rehabilitation
Aerobics
Body Sculpting
Exercise science principles
Training Locations
home
work
We bring all equipment for every
Certifications
ACE
NASM
ACSM
Cooper Institute
NESTA
NETA
NSCA and college degrees in exercise
kinisiology
movement science
and other related fields.
Personal Trainer Overview
No fads, no gimmicks, no musclehead gym gurus. Do you think personal training is just about good form and pushing yourself hard? You're about to explore the world of Perfect Personal Training -- where advanced science leads to tremendous decision-making in your strategy and progression. "Good exercises" are easy to find. Here, you'll train every energy system, and give the muscles exactly what they need to grow maximally without overstressing your joints or causing internal damage. Perfect Personal Training is the nation's biggest & best choice for top-quality in home exercise & nutrition. Best of all, we bring it all to you with every session. No home gym needed, and no minimum number of sessions to buy! It all begins with a free fitness assessment at your home, where you can get to know your trainer while he or she assesses your body to determine the best and safest plan of action!
Training Philosophy
We'd caution you to beware of trainers pushing their own "philosophy" on you. Our philosophy is the science involved in years of research on people of varying ages, genetic factors, medical conditions, and drug therapies. We implement strategies based on health industry guidelines and protocols for safer, more effective exercise with a solid destination. Every minute of exercise has the potential to cause some sort of damage or to benefit you in too small of a way. We believe in maximal results, with minimal risk!
Education
Our trainers are degreed in exercise science or related health fields, in addition to holding only the BEST, accredited certifications. We accept fewer than 1% of applicants because we take only the best of the best when it comes to selecting personal trainers. True science & health industry guidelines make your experience with us far more efficient than anywhere else!
Bio
Perfect Personal Training is led by some of the nation's top exercise scientists and professors. We began in 2004 in the states of Michigan and Ohio only, but soon began hiring trainers in New York and other states. Today, PPT is proud to serve the entire 48 contiguous states -- raising the standard for personalized and progressive personal training! We serve residential and corporate clientel of varying medical issues, fitness goals, and backgrounds.