THE PERSONAL TRAINER CONNECTION!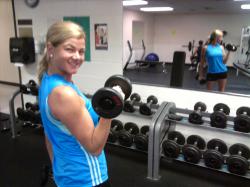 Failure is not an option
Nicole Gordon-Ferraro -
401-965-1695
Westerly, Rhode Island 02891
Trains both men and women.
contact trainer
Specialties
Strength Building
Weight Loss
Body Sculpting
Nutrition
Certifications
ISFTA Personal Trainer Certification
Personal Trainer Overview
Fitness and nutrition are my passion
Training Philosophy
Healthy Lifestyle change, proper nutrition, everyday fitness... live strong!
Education
ISFTA Personal Trainer certification BS Business Mgt from URI
Bio
I would describe myself as passionate, ambitious, witty, fun and most importantly, I have a heartfelt desire to motivate others; those are a few of the attributes that I would use to describe myself. Physical fitness has been a part of my life since I was a little girl. During college I became a fitness fanatic! I quickly realized that the ideal profession for me would incorporate my profound love of fitness and my sincere desire to inspire others, coupled with my Business Management Degree. Armed with fervent will, my mission to become a motivator, role model and life coach of fitness began. I graduated college with a BS in Management while working towards incorporating my love of fitness. While working toward my degree, I made the decision to start training friends and family. In addition to my studies, I was training ten to fifteen clients per week and found my work to be extremely rewarding. "I suppose that is the beauty of it all, when you partake in something that you are truly passionate about, it is almost like second nature and makes it easy to excel." I spent a number of years working as a fitness counselor in all types of settings with clients from all fitness levels. I was a wellness coach and personal trainer for many years. I trained students, up to woman in their 50's. I have a sincere desire to motivate and inspire every individual I meet who wants to reach their personal goals, both physically and psychologically. In addition to my personal training business and being a mom, I also work for International Sports & Fitness Trainers Association, serving as the Rhode Islands Certified Fitness Course Instructor. As ISFTA continues to foster relationships with local, national and international health clubs, I am instrumental in facilitating these relationships by enlisting facilities as ISFTA Certified Fitness Education Centers. In an effort to make ISFTA courses available to all those who might benefit from the knowledge, ideas, resources and motivation that we provide to prospective fitness trainers, I hold workshops one weekend a month to certify students. I hope I gave you enough information and look forward to hearing from and hopefully meeting you soon. In Good Health, Nicole Gordon Ferraro RI Fitness Course Instructor (ISFTA) Certified Personal Trainer (ISFTA)