THE PERSONAL TRAINER CONNECTION!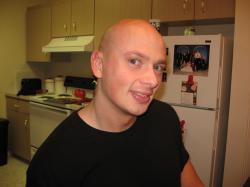 remyfitness.net
nick remy -
801-755-2179
Salt Lake City, Utah 84109
Trains both men and women.
contact trainer
Specialties
Strength Building
Body Building
Weight Loss
Rehabilitation
Aerobics
Spin
Body Sculpting
bootcamp
Training Locations
home
gym
studio
work
outdoors
Certifications
NASM CPT
NASM PES
NASM PES
Apex Nutrition
BodyBug
CPR/AED
Personal Trainer Overview
I love working one on one with my clients, and pushing them past their limits. I will help you reach your full potential. I know that being healthy and fit can dramatically improve a persons quality of life. Fitness helps your physical and emotion well being. I will make you sweat ,but I will also make you smile!
Training Philosophy
I am Nick Remy, owner and founder of Remy Fitness. I have been working in the fitness industry for a decade. I am certified Personal Trainer through the National Academy Of Sports Medicine and I am also a Performance Enhancement Specialist (Sports Training), and Corrective Exercise Specialist. I have specialty training in Weight Training, Sports Exercise, Postural Assessments, SMR Stretching, Boot Camp, Group Exercise, Core Training and Nutrition.
Education
National Academy Of Sports Medicine
Bio
Over many years now I have been working for big corporations that care very little or not at all for the personal trainer that works for them or for the clients that are the reason they are in business in the first place. All most all corporations care about is the dollar sign. Now don't get me wrong, I know its still a business and they need to make a profit. What I'm sad about is that's all they seem to care about, MONEY. Personal health and body image affects so many things in a persons life. I wanted to make a change, a real down in the heart change in someone's lifestyle. That's why I started my career in the fitness industry in the first place. I am committed to making a change in someone's life and being there to help them through there struggles or celebrating with them when they have accomplished losing there first pound, running there first mile, or when they finished a goal of running a marathon or losing there last pound.