THE PERSONAL TRAINER CONNECTION!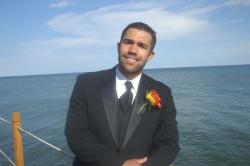 Developing all fitness
Nicholas Van Brunt -
517-614-2078
Howell, Michigan 48843
Trains both men and women.
contact trainer
Specialties
Strength Building
Weight Loss
Personal Trainer Overview
I train to client goals. I understand all people are different, and need there own plans. I stress good fundamental training to all people.
Training Philosophy
combination of weight training and aerobics. I also stress proper nutrition and healthy lifestyle changes.
Education
Medical education at Eastern Michigan University.
Bio
Everyone says this is the year that I am going to get myself back in shape. We say this yet we don't do it. I know this all familiar feeling myself. For years I struggled with trying to achieve the level of fitness I wanted and that most of us strive for. In 2010 I accomplished That goal now I want to share my knowledge and assist other's and their goals. Whatever your goals are be they weight loss, athletic performance, or if you just want to look good for swim suit season. Whatever your goals are, I offer a solution and I will work with you in the gym and at home, because it can't just be about the effort we put in at the gym, but also what we put in are bodies.