THE PERSONAL TRAINER CONNECTION!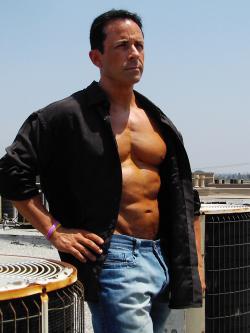 Specialties
Strength Building
Body Building
Weight Loss
Body Sculpting
Personal Trainer Overview
I've been a personal trainer in Los Angeles and nutritionist to all types of individuals. I've personally trained movie and television stars, a number of professional athletes and everyday folks who want to get in shape. I have guided people through extreme weight loss, competition level fitness training, and various other fitness goals. I see myself as a facilitator/role model/ life coach.
Training Philosophy
In my experience, there is one key element that factors into every single one of my client's success reaching their goals. That key factor is this: The individuals who achieve their goals possessed a strong desire to make major changes to their lifestyle. While many of us want to change how we look physically, this desire alone will not be enough. I'm talking about a deeply rooted desire for change that causes a person to willingly transform their eating habits and exercise routine in combination with my customized personal training. Most trainers force you to follow the program that works for them, and they simply don't even consider the fact that their client's needs are completely unique. I am whole-heartedly focused on helping individuals reach their potential. In other words, I find out what works for the individual, what does not, and modify the program accordingly. By including the three components listed below into every individual's program (I like to call them the "synergy"), my clients consistently achieve the results they desire. Here are the basics of my program: NUTRITION: Diets don't work. They merely slow your metabolism down and lead to confusion. I teach my clients how to eat right and stay fit for the rest of your life. Small regular meals SPEED up your metabolism and lead to weight control permanently. RESISTANCE TRAINING: Adding lean muscle tissue is a priority. Many times this is overlooked by people trying to lose fat or lose weight. However, muscle is the only part of our bodies to burn calories. By increasing muscle mass, your body will become more efficient at burning calories. CARDIO-VASCULAR TRAINING: This essential component of my program helps with the process of burning fat, speeding your metabolism and building your endurance. Cardio workouts help bring it all together. This is the third key element in what I call the "synergy." As I observe my clients willingly making these positive changes in their lives, I find the most important take-away is to learn how one's own body responds to adjustments in different elements of the program. By naturally staying in tune with one's body, the prospect of staying in optimal physical condition becomes second nature. This valuable knowledge is something each of my clients will carry with them as a guide for years to come.
Education
I graduated with a BA in Exercise Science from the University of London in 1992. This equips me with the knowledge to guide clients in the correct execution of muscle flexion when training. I completed an ASCM Fitness Instructor Certificate in 1994. This course equipped me to help individuals move forward in training while applying correct, safe training techniques regardless of weak areas that may exist. I completed Michael Thurman's Body Makeover Certificate in 1998. This thorough course further equipped me to train people at all levels employing the safest customized routines to get from point a to point b and achieve fitness goals. In 2008 I completed a Cardio Pulmonary Resuscitation (CPR) certification.
Bio