THE PERSONAL TRAINER CONNECTION!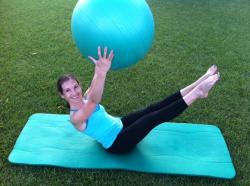 Specialties
Strength Building
Body Building
Weight Loss
Rehabilitation
Pilates
Aerobics
Spin
Body Sculpting
Prenatal/post-natal/Injury preve
Training Locations
home
gym
outdoor
United States
Certifications
ACSM Certified Personal Trainer AFAA Certified Group Fitness Instructor Certified Tabata Bootcamp Trainer Schwinn Certified Indoor Cycling Instructor Valid CPR and Insurance
Personal Trainer Overview
After a complimentary consultation, I design a specific plan that includes the client's goals, and I share and discuss the program design with my client. I assess the goals and the progression periodically or when needed. I care about my clients' constant feedback and input, which are crucial to the success of the program. We work as a TEAM. I am specialized in fitness training for older adults, pre and post-natal women, cancer clients, special populations and post rehab. I welcome clients of all abilities, to help them to reach optimal quality of life.
Training Philosophy
Her piloshophy is being fit and healthy, living an active lifestyle should be viewed as a rule for everyone's everyday life.
Education
BS. in Veterinary Medicine (Univ.of Istanbul) MS. in Biology (Cal State Long Beach) Attended IDEA 2012, Evolution 2012-2013. She is specialized in weight management, Pilates training, pre and post-natal training, post rehab, injury prevention and high intensity interval training. She is also specialized in Omniball training. Omniball is a unique portable workout equipment. These weighted (4lbs each) balls strap onto hands and/or feet for whole body strength, flexibility and balance training.
Bio
Nesve N. Yayalar is a certified group fitness instructor (AFAA), certified personal trainer (ACSM) and biologist (MS in Biology/CSU Long Beach). She is also Schwinn certified indoor cycling and Certified Tabata Boot Camp instructor. She is a member of AFAA (Aerobics & Fitness Association of America), ACSM (Amercian College of Sports Medicine) to follow current research in fitness and health. She lives in beautiful campus of University of California Irvine with her two children and her husband. She has been exercising for all her life. She practiced variety of sport disciplines, most for fun and some professionally. She has been a group fitness instructor and personal trainer in Anteater Recreation Center at University of California Irvine for three years. She also teaches her small group fitness classes in University Hills Community Center in Irvine, California. Learning about fitness, wellness and nutrition have been always her special interest. Nesve keeps herself current with new research and products on fitness and wellness industry by attending international conferences, workshops, and various training, as well as reading current research publications. Her piloshophy is being fit and healthy, living an active lifestyle should be viewed as a rule for everyone's everyday life. As a fitness trainer, her goal is to help people to achieve the desired body type and physical health. She is dedicated to help her clients to gain strength and health they have never had before.