THE PERSONAL TRAINER CONNECTION!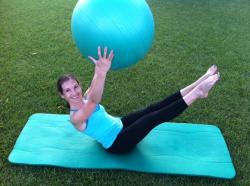 Specialties
Strength Building
Rehabilitation
Yoga
Pilates
Body Sculpting
Prenatal/post-natal/Injury preve
Training Locations
home
studio
outdoor
United States
Certifications
ACSM Certified Personal Trainer AFAA Certified Group Fitness Instructor ACE Therapeutic Exercise Specialist Certified Posture and Exercise Therapist Board certified massage therapist (NCBTMB) Valid CPR and Insurance
Personal Trainer Overview
I am a certified Personal Trainer, board certified Massage Therapist, Therapeutic Exercise Specialist, and Certified Posture and Alignment Therapist with EGOSCUE method. Great Anatomy, Inc. is established to provide the unique service and treatment with the highest quality to individuals. Its vision is to promote pain free movement for optimum life, always following latest research and guidelines to provide professional, ethical, educational and caring service to its clients. ​ My primary focus is to help clients who have chronic pain due to postural imbalances, chronic medical conditions, sport injuries, and accidents. ​ Specifically, I have experience in helping people who suffer from chronic back pain and chronic diseases, such as Parkinson's disease, Multiple Sclerosis. I have helped women during and after pregnancy strengthen core and posture muscles, return safely to exercise and daily living activities. ​ GreatAnatomy is a unique program which incorporates healing effects of posture exercises and movements with therapeutic massage to help clients who have chronic pain while understanding how their unique body functions. I specialize in postural assessment, corrective exercise and movements, core stability, and balance training. While training my clients, I teach basic anatomy, kinesiology, and biomechanics to help them understand how their body functions.
Training Philosophy
Her piloshophy is being fit and healthy, living an active lifestyle should be viewed as a rule for everyone's everyday life.
Education
BS. in Veterinary Medicine (Univ.of Istanbul) MS. in Biology (Cal State Long Beach) She is specialized in pain management, chronic pain, posture therapy to reduce chronic pain, alignment correction, injury rehab, prenatal/postpartum exercise, stroke, neurological disorder, such as MS and Parkinson's disease.
Bio
My goal is to create a unique exercise program with variety of movements, which suits each individual's needs and concerns. Individual's commitment to his or her personal exercises is a key to success with the postural therapy. I make each exercise and therapy session is unique, relaxing, and beneficial. My philosophy is an active lifestyle should be part of everyone's everyday life, to move happy and pain free, and live healthy. I live in Irvine with my husband and my three sons. Learning about fitness, wellness and nutrition has been always my special interest. I keep myself current with new research and products on fitness and wellness industry by attending international conferences (IDEA, ACSM, AMTA, Egoscue), workshops, and various training, as well as reading current research publications. I enjoy serving my community through teaching fitness classes for all ages, and organizing sport activities for kids and families.