THE PERSONAL TRAINER CONNECTION!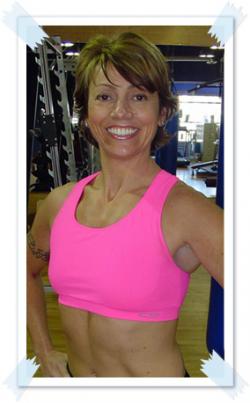 The Private Gym
Natalie Gibbins -
619-223-6666
San Diego, California 92107
Trains both men and women.
contact trainer
Specialties
Strength Building
Body Building
Weight Loss
Rehabilitation
Certifications
ACE Personal Trainer Certification
Personal Trainer Overview
My passion for my own training routines helps me in my ability help to create exercise programs that are not only goal specific, but more importantly time-efficient and mentally stimulating. My clients tell me I have a great eye for tweaking their form during movements to really enhance and isolate muscles to accelerate results. I love what being healthy has done for my self-confidence, vitality and attitude and it thrills me to have the opportunity to pass those gifts on to the people who train with me.
Training Philosophy
I've taught Cardio Kickboxing at a local Martial Arts Studio, trained with Billy Blanks at his studio learning the art of Taebo and worked with a Muay Thai Kickboxing Instructor for 18 months. The Private Gym has two heavy bags, gloves and training mitts that I use to incorporate those elements into my clients routines. Kickboxing is really fun and it burns a bunch of calories! My continuing education taught me how to work with clients who suffer from arthritis, high blood pressure and other common ailments. I personally worked with a Parkinson's Disease sufferer and was able to improve his co-ordination and in turn enjoyment of life and more recently I introduced athletic training and functional training into my clients' workout routines, with great success. My thirst for knowledge has now led me to want to learn more about corrective exercise for better posture and balance as well as long-term injury prevention and I'm currently learning Yoga style moves that also help to improve posture and flexibility.
Education
• 22 years of Personal Training experience • ACE Personal Training Certifications • Insured Liability Insurance • Weight training techniques course • Fitness assessments development • Cardio Kickboxing - Billy Blanks Studio • Muay Thai Kickboxing • Yoga Techniques • CPR, AED, and First Aid certified
Bio
My love for weight training and fitness began 22 years ago while I was still living in England. My love for exercise, more specifically weight training, prompted me to become a Certified Personal Trainer in November of '97 and since then I've spent countless hours improving my knowledge and experience. In 1999 I completed a six week course in anatomy which really took mine and my clients' programs to a new level, saving us time in the gym and with better results.