THE PERSONAL TRAINER CONNECTION!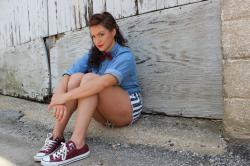 Athlete Aesthetic
Natalie Bradley -
Gaffney, South Carolina 29341
Trains both men and women.
contact trainer
Specialties
Strength Building
Weight Loss
Sport Specific
Training Locations
gym
studio
outdoor
Online
Certifications
ISSA Certified CPR/AED/First Aid
Personal Trainer Overview
My training methods vary based on who you are and what your goals are ranging from weight training, cardio, speed and agility, flexibility, diet and supplementation, and strength building. I have worked with people of all ages and make your goals my goals.
Training Philosophy
I will give you 200% but I expect the same in return. Being healthy an fit is a lifestyle that requires some dedication but reaps so many rewards. Genetics make up about 20% of health issues one may incur, which means you have the power to prevent possible health issues by leading a healthy lifestyle. Athletic Aesthetic is about making you functional, helping you reach your goals, and creating a life you love to live.
Education
Currently enrolled at Winthrop University Trained with Tony Smith and Gur Thind Strength and Conditioning at Winthrop 8 years as an athlete 18 years as a dancer
Bio
As an athlete, I have dealt with the struggles of weight maintenance, strength training, and injury. I have learned through the years (and surgeries) that the best way to live is positively with an incredible work ethic. My injuries and studies have also equipped me to understand the body better so that I can train myself and others in the best possible way. I am currently training for the Olympics (track 100/200m). I tell you that so you can grasp the fact that nothing is impossible. We are given one body, that's it. I am determined to make mine the best it can be, and I can help you do the same!