THE PERSONAL TRAINER CONNECTION!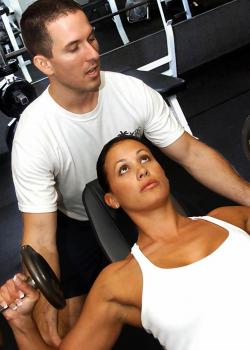 Specialties
Strength Building
Body Building
Weight Loss
Rehabilitation
Body Sculpting
Personal Trainer Overview
I coach busy professionals who have struggled with diet and exercise, to help them finally achieve the results they've been looking for. I'm more passionate about exercise and fitness than likely anyone you have trained with in the past, and I'm 100% dedicated to assisting you in achieving all your fitness objectives and making sure that you have fun in the process.
Training Philosophy
If you have repeatedly struggled with diet and exercise, jumping on another diet or exercise program can't be the answer. What you need instead is guidance. Someone who can help you figure out the few important things you should be doing differently. Someone who can walk alongside you, troubleshooting the inevitable challenges and difficulties that come up. That's real coaching, and that's what I do. Since 1988, I've coached thousands of people and helped them finally achieve the results they've been looking for. Over the years I've learned why some people see fast results, while others struggle, and I've discovered that the solution for one individual, may not be the same for another. That's why I take the time to listen and learn about you, to better understand your challenges and driving factors, and work out a plan that's tailored specifically to you, your schedule, your lifestyle, and regularly monitor and adjust your program as needed to ensure you achieve the results you desire.
Education
For over 25 years, I've helped thousands of clients get into better shape. I began my career as a personal trainer at age 15. Since then, I studied Kinesiology and Physical Education, Nutrition, Exercise Physiology, Biomechanics, and Anatomy at CSU Long Beach and I've held 5 nationally accredited certifications (ACSM, NSCA, AFAA, NFPT).
Bio
My client success stories are the reason I was named one of LA's Top 5 Trainers. I've published hundreds of articles, and my program has been featured on TV, SportsDesk, CitiCable, The Easy Reader, The Daily Breeze, and I was voted South Bay's Best Personal Trainer 5 times! My clients include top executives, bodybuilders, fitness competitors, firemen, police women, runners, tennis players, skiers, golfers, martial artists, doctors, lifeguards, yoga instructors, and even other certified personal trainers.