THE PERSONAL TRAINER CONNECTION!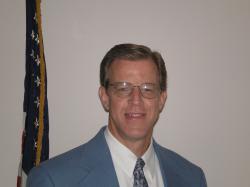 "fitness for the whole person"
Michael Raab -
316-687-9729
Wichita, Kansas 67226
Trains only men.
contact trainer
Training Locations
home
outdoors
I can work with husband and wife
Certifications
Fitness Trainer
ISSA CPR / First Aid Instructor with the Red Cross
Personal Trainer Overview
Variety. This word conveys the idea that exercise is not just boring repetition, but it can be interesting. Depending on the likes and dislikes of my client, I can sculpt a program that will suit him. Weights, no weights, or everyday items will do to help strengthen the body and cause it to function the way it was designed to function.
Training Philosophy
The training of the whole person is the philosophy of my training program. We were meant to live as whole persons, not just in the physical realm, but in the emotional, intellectual, and spiritual as well. My method begins with the physical, which affects the emotional and intellectual, and can also have an affect on the spiritual person. In starting with the physical I work with the client to strengthen all parts of the body to the degree he desires. The sessions will include exercises that work hand-in-hand with the movements of his everyday life. We also work on cardiovascular training which strengthens the heart and blood vessels, enlarging both to pump blood and oxygen more efficiently to the body. This results in a physically healthier client. Nutrition is an important aspect of health also. One needs to be careful what he allows into his body so as not to undo the benefits of the hard work he has put into training.
Education
I have had training in kinesiology, sports nutrition, injury prevention, and fitness assessment. I am currently working on certifications in the fields of exercise nutrition and exercise therapy. I have been a pastor of a Christian church for 13 years with a total of over 20 years in activities related to ministry. MA in Pastoral Studies
Bio
I was born and raised in Philadelphia, PA, attended Temple University, taking credits in Psychology and Physical Education, lived in SC for nine years, getting married and attending Bible school. I pastored in PA and CT for 13 years before moving to Wichita, KS where my wife's parents reside. We have 4 children, with one married and one attending college in SC and two at home.