THE PERSONAL TRAINER CONNECTION!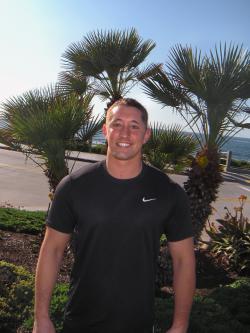 Specialties
Strength Building
Body Building
Weight Loss
Rehabilitation
Group
Training Locations
home
studio
work
outdoors
Certifications
I hold a National Certified Personal Trainer Certification from the American College of Sports Medicine. The leading and most trusted certifying agency in the United States! On top of this
I have also accomplished a Bachelor's Degree in Kinesiology (the study of exercise) with an emphasis in Fitness
Nutrition and Health. I received this honor from the most prestigious of programs at San Diego State University.
Personal Trainer Overview
As the owner of Power Punch Fitness, the private personal training that I provide, is hands down, with no doubt, the ABSOLUTE BEST Personal Training available in San Diego County. Providing the BEST 1-on-1 and small group personal training that San Diego County has to offer, we specialize in any and all health/fitness related goals one might have. From losing weight, building muscles, nutrition/diet coaching, straightening and toning the core, injury rehabilitation, improving sports performance, or just looking to improve overall health, Power Punch Fitness' Personal Training will help all of your fitness dreams become a reality.
Training Philosophy
I believe that a good personal trainer not only believes in fitness, but also educates themselves in it and makes it a way of life. I have educated myself in the field of fitness to make sure that I get what most trainers try to get, RESULTS!! From my Bachelor's Degree in Kinesiology, to my ACSM National Certification as a Personal Trainer, I will make sure that all of your fitness needs are not only met, but greatly exceeded. I believe that in order to have a successful fitness regimen, the mood not only has to be serious, but fun as well. So I personally, make sure to get to know my client as an individual and make sure that I do everything I can to cater all of the knowledge that I posses, to help them to reach all of their health and fitness related goals. Whether it be:weight loss, weight training, nutrition, diet, toning and core training to name a few. I do not make anyone do anything that I have not only tried, but also approve. My motto is, "how can you teach it if you have not done it yourself!" So to have the fastest and best results, come train with THE BEST PERSONAL TRAINER San Diego has to offer!!
Education
I have a Bachelor's Degree in Kinesiology from the prestigious Kinesiology program at San Diego State University. My emphasis is Fitness, Nutrition and Health. I have learned not only how the body works inside and out, but also how to improve its function and overall health and performance. I also hold a certification as a Nationally Certified Personal Trainer from the American College of Sports Medicine (ACSM), the leading industry in personal training certifications. On top of this, I am also trained and certified in CPR and AED, as well as first aid.
Bio
My name is Matthew Johnson and I have literally DEDICATED my life to helping others get in the BEST SHAPE OF THEIR LIVES!! Being San Diego's best Personal Trainer, I have always been involved in sports and fitness. Whether I was playing soccer on the Olympic Development Team; training with players from the U.S. National Team in Santa Cruz, Bolivia; or playing in the Catholic Olympics in Europe, I have actively been involved in staying fit and being healthy. After moving to San Diego to study Kinesiology, I became more interested in personal fitness, not only to benefit myself, but to help others achieve their goals. After receiving my Bachelor's Degree in Kinesiology with an emphasis in Fitness, Nutrition, and Health from San Diego State University, I went on to become Nationally Certified as a Personal Trainer through the American College of Sports Medicine (ACSM). This is when I decided myself, to not only make fitness a way of my life, but to also help others who do not have the same education and experience that I posses and wish to learn how to stay healthy and be in the best shape of their lives. I have dedicated my life to helping others reach every health and fitness related goals they may have, no matter what those goals may be. Besides having a degree in the field and being Nationally Certified by the most accredited agency in the field, but I also currently hold an American Heart Association CPR/AED Health care Provider certification as well, along with the best Personal Trainer Insurance available. I am currently studying toward ACE and NSCA certifications. My clients have included dancers, DJ's, doctors, nurses, pregnancy, post-pregnancy, entrepreneurs, active duty military, teachers, students, athletes of all kinds, housewives, computer programmers, and surgeons. I enjoy the challenge of creating effective workout routines that fit in with a person's unique lifestyle, schedule, and needs. The most challenging and rewarding part of my work involves training people with various health problems. I have helped clients with brain tumors, strokes, asthma, diabetes, obesity, arthritis, chronic pain, fibromyalgia, post traumatic stress disorders, and post rehab. When possible, I work in conjunction with a client's doctor or physical therapist in setting up safe and effective exercise programs to help improve their quality of life.