THE PERSONAL TRAINER CONNECTION!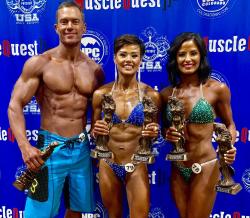 Personal Trainer, CSCS, PES, CPT
Matt Hartsky -
(307) 277-5336
Laramie, Wyoming 82070
Trains both men and women.
contact trainer
Specialties
Strength Building
Body Building
Weight Loss
Rehabilitation
Body Sculpting
Athletes, Older Adult, Corporate
Training Locations
home
work
gym
studio
outdoor
Certifications
He has also earned the following credentials: CSCS
Certified Strength & Conditioning Specialist thru the National Strength & Conditioning Association PES
Performance Enhancement Specialist thru the National Academy of Sports Medicine CPT
Certified Personal Trainer thru the Aerobics & Fitness Association of America FNC
Fitness Nutrition Coach thru the National Exercise & Sports Trainers Association PFTS
Physique & Figure Training Specialist thru the National Exercise & Sports Trainers Association SAQS
Speed
Agility & Quickness Specialist thru the National Exercise & Sports Trainers Association USATFC
Unites States Track & Field Coach thru the United States Track & Field Association
Personal Trainer Overview
TRANSFORM307 PERSONAL TRAINING Transform307 offers you a different Laramie personal training experience. Our certified personal trainers have the highest level of fitness certification available. Our exclusive exercise, weight loss, nutrition, and performance programs are designed from more than 22 years of coaching experience. We care about every single client and strive to offer safe, high value services that make you proud to be part of the Transform307 family.
Training Philosophy
"Thank you for checking out Transform307 and learning more about our passion for personal training. I have spent most of my life trying to transform in one way or another. It started as a passion to transform into a better athlete. It became about transforming into a better man… husband, father, friend. In my work life, I have chased the idea of transforming into a better leader and a top level coach. As a coach, a huge part of who I am is about transforming people… physically, mentally, emotionally… into the best versions of themselves. I believe in minimizing risk of injury, while maximizing individual potential. As a personal trainer, I have helped thousands of people transform towards better health and fitness and would love to put my personal training & coaching experience to work helping you! I oversee all program design and implementation, along side our coaches and trainers, to ensure you receive the safest, value packed services available. Please contact us to discuss your goals and needs, and learn more about how we can help you succeed." ~ Matt Hartsky, CSCS, Owner & Coach
Education
Matt Hartsky, CSCS, is a certified personal trainer and the owner of Transform307. He is a Wyoming native, devoted husband, and father of three boys. He received his B.A. from Adams State College, where he competed at the national level as an endurance athlete. As a post collegiate athlete, Matt competed for Team Reebok and Coach Dr. Joe I. Vigil, while training for the Olympics. Matt Hartsky has more than 22 YEARS of experience, coaching since 1996, working as a high school and college strength and conditioning coach, athletic director, successful gym owner, health and fitness author and NPC national level physique athlete.
Bio
Welcome and thanks for stopping by to learn more about our affordable top level Personal Training options for fitness, nutrition, and performance! We invite you to explore the Transform307 difference with the most educated & experienced Wyoming Personal Trainers available! If you need to learn how to lose weight or one of our solid weight loss plans; all around fitness or better accountability; strength or specialized athlete training; a corporate wellness program for your business or a health & fitness speaker; a small group personal training class or a small group strength class; an online personal trainer or a physique & figure coach; we truly believe Transform307 has specialized training options for any age, any goal, and any BODY! Over the last 22+ years, we have helped thousands of people reach their goals, which gives us the experience to offer one of a kind fitness training services that are safe, individualized, and focused on YOU! Personal training is all about you, your needs, and your goals. It is about taking you from where you are and helping you move closer to where you want to be. This is a transformation and we are transformation experts! Target areas can include: weight loss/body composition, strength training/muscular development, aerobic/cardiovascular training, core balance/stability, flexibility/stretching, nutrition adjustment, goal setting, and program design/workout strategies.