THE PERSONAL TRAINER CONNECTION!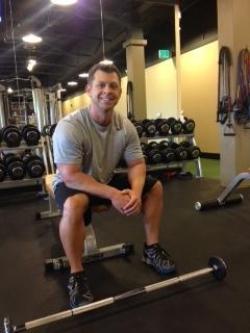 Specialties
Strength Building
Weight Loss
Rehabilitation
Golf Fitness, Hockey Strength Tr
Certifications
AFAA - Certified Personal Trainer (Expired 2000) NSCA - Certified Personal Trainer (Since 2000) USAW - Certified Level 1 Sports Performance Coach (Since 2013) USAW - Certified Club Coach (Since 2014)
Personal Trainer Overview
Mark Schmukal is a certified personal fitness trainer and gym owner in the Centennial, Colorado area. He works with clients ranging from athletes at the high school, collegiate, and professional levels. As well as, people who are looking to improve their overall health and wellness via weight loss, muscle building, and sport specific training. Mark, who has been a certified personal trainer for over 20 years, will guide you through challenging workouts designed for your goals! All workouts are fun, educational, and successful in achieving the results you want.
Training Philosophy
He combines practical, hands-on training with positive energy and enthusiasm. Your training will focus on aerobic and anaerobic exercises, with posture, balance, flexibility, core strength, muscular strength, and whole body dynamic exercises.
Education
Mark studies, takes courses, and attends professional conferences which keep him aware of the most recent strategies and techniques in his field. His special interests include kinesiology, nutrition, and physiology.
Bio
Mark served in the U.S. Army for eight years, where he became a master fitness trainer; while serving as an Infantryman, a Field Artillery Meteorological Crew member, an M1 Armor Crewman, and as a Cavalry Scout. At age 18 Mark was certified as a personal trainer by the Aerobics and Fitness Association of America (AFAA). He is accredited as a certified personal trainer by the National Strength and Conditioning Association (NSCA). For more than 20 years, Mark has trained people ranging from professional athletes to people who simply want to improve their health/lose weight, including experience with individuals in the Asian Golf Tour, Kansas City Chiefs, Seattle Seahawks, U.S. Air Force Academy, U.S. Olympic Training Center in Colorado Springs, U.S. Army, The Power Team, and Actresses in Bollywood India. He has worked in a physical therapy clinic, and served as a manager for 24 Hour Fitness.