THE PERSONAL TRAINER CONNECTION!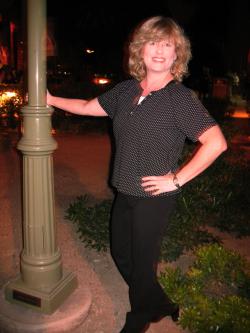 Build strength, stamina, and confidence!
Maggie Rappaport -
(520) 991-5622
Tucson, Arizona 85710
Trains both men and women.
contact trainer
Specialties
Strength Building
Weight Loss
Rehabilitation
Certifications
American Council on Exercise since 1990
Personal Trainer Overview
Training clients in a one-on-one setting allows me to focus entirely on the client's needs; however, I excel at being able to facilitate small groups of clients for those that are seeking an affordable alternative to one-on-one pricing. 20+ years in the fitness industry as a group fitness instructor and personal trainer gives me an extensive "bag of tricks" I use to find just the right mix of exercises that will accomplish our specific goals.
Training Philosophy
What makes a good trainer? Education? Experience? Patience? Friendly and motivating personality? Great communication skills? These days it takes ALL of these traits to make a successful trainer. A truly great personal trainer is one that will make sure you perform your exercises correctly, provide you with the encouragement you need, will motivate you to give it your all when you feel like quitting, all the while keeping your goals and limitations in mind. I have the ability to work with the specific needs of my diverse client base. The most important aspect of any fitness program is the client's willingness to participate. The most well-thought-out plan is destined for failure if the participant does not have the proper motivation to complete it. When someone asks "What is the best exercise for...?" The answer is "the one that you will actually DO." You will be motivated and I will keep you accountable and on-track. My other two most important roles: to be a good listener and an even better teacher. I ask lots of questions to help me understand what you've been through and what you would like to accomplish. This is very important in terms of setting goals. I assess your learning style and make sure you understand WHY a particular exercise is beneficial. I find out what you already know and build your knowledge base from there. Variety is the spice of life. If we continue to do the same workout day after day, it becomes ineffective (even though you WILL see some initial improvement). It's basic stimulus-response: if you provide the same stimulus the response is weakened. I use a variety of techniques and equipment, including interval training, circuit training, and tweaking the amount of resistance vs. the number of reps to keep the challenges coming. I believe that life should be lived in balance. Along with proper nutrition and the supervision of skilled health care providers, exercise helps cope with the stress in our lives. An exercise program itself needs to be balanced, focusing on cardiovascular fitness, muscle and bone strength, flexibility, core strength, as well as agility, balance, and coordination (the ABC's of fitness). Additionally, spiritual and mental health are best maintained when physical fitness is also valued and pursued.
Education
B. M.Ed., University of Arizona 1993
Bio
Maggie Rappaport has been certified by the American Council on Exercise since 1990 and is a 1993 graduate of the University of Arizona. She formed the foundation of her expertise as a personal trainer at Naturally Women Fitness Center, which unfortunately closed in 2005. But the closure of Naturally Women was the impetus for the birth of The Training Zone, and now she enjoys training men and women of any age or ability, although she has a special affinity for developing fitness programs for seniors. Over her years of experience she has worked closely with special needs clients, including those who wish to make the transition from physical therapy to a regular exercise program, as well as clients with multiple sclerosis, cerebral palsy, cancer, osteoporosis, arthritis, diabetes, strokes, heart disease, and a variety of injuries. "The most important step of putting a program together is to listen to my clients and find out where they are in terms of fitness goals and where they would like to be." Maggie includes the proper mix of strength, flexibility, cardiovascular, and balance training to help clients meet their specific goals. Her clients enjoy their exercise sessions and describe them as "creative" and "fun." She has completed training in Pilates and the Reebok Core Board. She is also a member of the American Senior Fitness Association (ASFA) and the International Dance Exercise Association (IDEA).