THE PERSONAL TRAINER CONNECTION!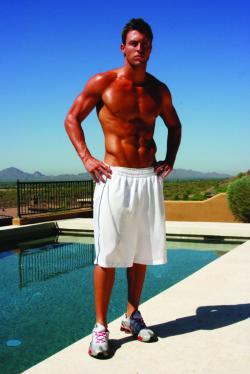 Specialties
Strength Building
Body Building
Weight Loss
Body Sculpting
Training Locations
home
gym
studio
work
outdoors
US
Personal Trainer Overview
Scottsdale Personal Trainer | Phoenix, Arizona Personal Fitness Training Lucas James, Celebrity Personal Trainer in Scottsdale, AZ is Arizona's only personal training company that focuses on fitness, nutrition and health. Serving Phoenix, Tempe, Mesa and Chandler areas, Lucas James is a "Five Star" rated celebrity personal trainer and his company is headquartered in Scottsdale, AZ. Lucas James has been nationally recognized in the health and fitness industry and has had passion for fitness for the past 19 years. As a client you'll receive an array of luxury services that include one-on-one personal training with Lucas James to give you an experience that's unparallel to any other. While working with Lucas James you will receive a customized daily meal plan, weight training instruction, education on eating healthy, supplement recommendation, and guidance and motivation to reach your own personal goals for long-term success. Lucas James believes that nutrition and meal planning are core factors for achieving life changing results and in all of his programs he includes nutritional analysis of your current eating habits, recommendations and substitutes for healthy meals, meal planning, and suggested daily vitamins and supplements. Lucas James Personal Training can service you at your home, office, gym, or Lucas's private facilities. As a client you'll receive one-on-one instruction with Lucas James at your preferred location. You will also receive a complete customized daily meal plan, weight training schedule, motivation and education in health and fitness to develop your Healthy Lifestyle that will result in long-term success. No matter if you're retired, abusy business professional or married, Lucas James has the capabilities to make you reach your goals with his heavy concentration on nutrition and dedicationto make you succeed. SERVICE AREAS: (Home, Gym, and Mobile Personal Training) Arizona, AZ, Phoenix, Scottsdale,Paradise Valley, Chandler, Tempe, Gilbert, Mesa, Ahwatukee, Statewide, Nationwide FITNESS PROGRAMS: - Weight Loss and Fat Loss Fitness Program (Goal of Losing: 5-30 lbs &5-15% BF) Weight Loss & Fat Loss Fitness Program is designed for individuals looking to shed excess weight and body fat off their entire body.The program generally consists of personal training three times a week that focuses on full body workouts. A customized daily meal schedule is included to start consistent healthy eating habits. Also included is supplement and vitamin recommendations.This program has ansupplemental workout routine for the individual to do on their own when they're not training with Lucas James. The supplemental workout routine is a variation of different cardio exercises to improve results in weight and fat loss. Most clients lose 1-3 pounds a week and can see 2-5 inches off their waste in the first 30 days. - Extreme Weight Loss and Fat Loss Fitness Program (Goal of Losing: 30-100lbs & 15-30% BF) Extreme Weight Loss and Fat Loss Fitness program is catered toindividuals who are considered highly overweight or obese. The program isa step-by-step total body transformation that educates and demonstrates allaspects of working out, eating right, overcoming physical, mental and emotional obstacles to create a healthy living lifestyle. Lucas James works one-on-one with the individual on a daily basis for encouragement, self-discipline and accountability. Clients can see up to 2-5 pounds off aweek and up to 10 inches or more of the waist line in a 30 day period. - Fit and Toned Fitness Program (Goal of Losing 10lbs or Less & 2-4% BF) Fit and Toned Fitness Program is for women and men who currently workout on a regular basis, but would like to take the next stepto see better results. An evaluation and recommendation on current workout routine and eating habits are given. Also, a custom meal plan, private personal training, and recommendation of supplements and vitamins. Clients can see up to 1-2 pounds off a week and 1-2 percent body fat loss amonth. This fitness program is designed for people who consider themselves fitand healthy. - Lean Muscle Mass Building Fitness Program (Goal of Gaining 5-10lbs of Lean Muscle Mass) Lean Muscle Mass Building Fitness Program isdesigned for men and women who are looking to gain weight or gain muscle mass.The program focuses on nutrition, daily meals, supplements, and learning how tolift weights to gain size. Included in the program is a daily custom meal plan,supplements recommendations, mass building weight lifting program. The average client can see a muscle gains of 1-3lbs a week. TRAINING LOCATIONS: - Lucas James's Private Facilities - Home - Office - Gym or Fitness Center - Outside or Backyard - Hotel or Resort - Community Gym SERVICES RECEIVED IN ALL FITNESS PROGRAMS: - Short term and long term goal setting - Assessments and tracking your current eating habits and meals. - Define your strengths &weakness is your diet, workouts and motivation. - Calculate and track body fat calculations, resting heart rate, body measurements, weigh-in, BMI, full body pictures and ideal body weight - Develop customized weight training schedule based on your body and ability. - Write a customized meal plan that you can stay consistent with that is based on your current health to maximize results and achieve your goal. - Define cardio and core activities that are suitable and enjoyable for you. - Take you grocery shopping and show you how to shop healthy or give you a list of healthy foods to buy. - Teach you how to prep and prioritize your daily meals. - Recommend supplement and vitamins. - Implement weight training 2-4 days a week. - Implement cardio and core workouts 2-4 days a week. - Weekly phone calls to motivate you and make sure you're on track with your diet. - Three (1 hour) training sessions per week. - Bi-Weekly packages of your weight,body fat results, meal recommendations, progress, measurements, and updated stats and body pictures. - Weekly e-mails that educate and inform you about nutrition. - Personalized step-by-stepinstruction on weight training, diet and cardio
Training Philosophy
Scottsdale Personal Trainer | Phoenix, Arizona Personal Fitness Training "What sets me a part from other fitness and health companies is my teaching methodology, attention detail, passion for fitness, and my track records of proven results." My teaching methodology is adaptable and versatile to any type of personality, which can be hard to find in a fitness expert or personal trainer. I think that it's very important for my client and myself to have a relationship where we can communicate effectively, stay motivated and have fun doing it together. My outgoing personality and positive attitude allows me to keep my clients interested and enthusiastic about their progress, goals, workouts and most importantly their results http://LucasJamesPersonalTraining.com
Education
BS, Bemidji State Univeristy
Bio
Scottsdale Personal Trainer | Phoenix, Arizona Personal Fitness Training "I created a luxurious healthy lifestyle company to cater to people and businesses who are looking to make a complete lifestyle transformation. I am the only fitness and health company in the entire state of Arizona to provide high-end treatment of luxury personal training services. I work with business owners, doctors, politicians, actors, and President's of major companies to provide a personal training experience that's unparalleled to any other. When a client is done working with me they will have all the tools, knowledge, and experience to continue their healthy lifestyle and will have NO option to fall back to their bad habits." Lucas James is a nationally known celebrity personal trainer and fitness model headquartered in Scottsdale, AZ. He specializes in helping men and women achieve weight loss, muscle building, toning and other fitness programs to create a "Healthy Lifestyle." www.LucasJamesPersonalTraining.com Lucas James believes that nutrition and meal planning are huge factors for achieving results. In all of his fitness programs he includes nutritional analysis of current eating habits, recommendations for improvement, teaching how to eat healthy, methods on how to analyze and read foods, and suggested daily meals and supplements. Lucas James always take on a one-on-one approach and wants you to succeed to increase your self-esteem, health and look. Although Lucas James is located in Scottsdale, AZ he travels across the entire state Arizona to help individuals meet their personal fitness and health goals. James provides mobile personal training and home gym personal training services for those individuals who want a different fitness experience. Lucas James is a Certified Personal Trainer, CPR Certified, and insured. He has earned two Bachelor's of Science Degrees at Bemidji State University. James have been active in weighting training, sports conditioning and physical fitness for the last 19 years. He was a three-sport athlete growing up playing football, basketball, and golf. Lucas was born in Edina, MN and attended high school in Wadena, MN. Lucas James is the oldest of five kids in his family and his mother is also a certified personal trainer who manages a Snap Fitness. Lucas has been an actor, TV Host, hip-hop dancer and fitness model for the past eight years. Some of Lucas's notable work in the entertainment industry started when he worked for the NBA's Phoenix Suns and WNBA's Phoenix Mercury and then became the TV Host for "Arizona Entertainment Weekly" which aired on CBS. Lucas was also selected as the body-double to Phoenix Suns MVP, Steve Nash. James has appeared in various Nike print campaigns and NBA commercials. Lucas has also be seen as a national fitness model for 24 Hour Fitness where he was featured in ads as a personal trainer. Lucas James was nationally recognized on television for his participation and winning on the hit Bravo TV reality series "Date My Ex: Jo & Slade".