THE PERSONAL TRAINER CONNECTION!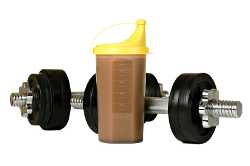 Specialties
Strength Building
Body Building
Weight Loss
Aerobics
Certifications
NASM AED and CPR Certified
Personal Trainer Overview
I like to use functional exercises when training a client- exercises that help my client do everyday tasks easier. Most trainers try to work their clients to their breaking point because that's all they know. I believe there is no sense in sprinting to the starting line. It sounds crazy, but I like to have my clients do as little as possible to reach their goals. So when a client needs to lose those last 5 lbs before spring break, we haven't exhausted every option.
Training Philosophy
Being fit isn't just about how far you can run or how much you can bench press. Being fit, in my opinion, is about every aspect of your life. Posture, flexibility, and digestive health are ignored constantly in the pursuit of the perfect body. Who cares how far you can run if you can't touch your toes? It's great if someone can bench 315lbs, but its not that great that they have constant shoulder pain from muscle imbalances being ignored. I love reaching my clients goals, but I always keep their posture and flexibility in check throughout our sessions.
Education
National Personal Training Institute of Rochester Hills, MI
Bio
I have been involved in weight training since I was fourteen. I started through my football practice and was hooked. I was always lifting weights and trying to increase my strength, but with more muscle gain always came more fat. I went from a 180lb freshman in high school to 232lbs as a senior. After I graduated high school, my weight increased to 252lbs. I continued lifting weights and becoming stronger, but never lost any weight until I decided to devote myself to fitness full time. I went to NPTI for a 6 month program. I learned how to train and diet correctly in order to reach my goals. Using what I learned from class, I lost 65 lbs in 8 months. No tricks, crazy diets, or pills! All I used was what I learned in class. I want all my clients to feel the same way I did achieving their fitness goals. I know exactly what to do for my clients to reach their goals not only because I am a certified personal trainer, but because I went through it myself.