THE PERSONAL TRAINER CONNECTION!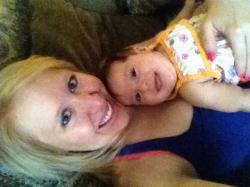 Specialties
Strength Building
Weight Loss
Rehabilitation
Corrective Exercise Specialist
Certifications
NASM Certified Personal Trainer and Corrective Exercise Specialist
Personal Trainer Overview
Become Healthy and Happy in YOUR OWN BODY.
Training Philosophy
We are own worst critics. It's time we learn how to love the body we were given- how to take care of it, nourish it, and see what it is capable of. We have to strive for our own best- and become the healthiest version of ourselves.
Education
Bachelor of Science in Physiology from the University of Arizona
Bio
I grew up in an active family- my mom is a personal trainer/aerobics teacher and my dad is a third degree black belt in Karate. From the time I was 8 all the way through college I danced, which gave me a knowledge base in proper stretching techniques, how to develop coordination, and memory retention. In college I pursued my degree in Physiology because the study of the human body, how it works, and what it is capable of, fascinates me. In 2013, my husband and I found out we were pregnant! I exercised the whole time- still gained 50 pounds though! But after I had our son and got back into shape, I realized it was time to start the career I had always intended to do- personal training. So- I quit my retail job, enrolled in NASM, and started studying- all the while I was also taking care of my 9 month old. Low and behold- I found out I was pregnant AGAIN. At first- I was discouraged with the timing of this baby... Who was going to hire a pregnant personal trainer? Then, I decided to take pregnancy as a learning experience on how to properly train physically limited clients. So I enrolled in the Corrective Exercise Specialist program as well. All in all- I want my clients to know that I have experienced every angle of the exercise and weight loss spectrum. I've been in great shape, I've been overweight, I've had aches and pains all over, I've looked in the mirror and have been so discouraged with what I see. But that's why I do what I do- because at the end of the day, this body is the only body I have. So I want to take care of it and learn how to love it, even it's "flaws." So come train with me- come learn how to be comfortable in your own skin; become the healthiest version of yourself, and BE YOUR OWN BODY.